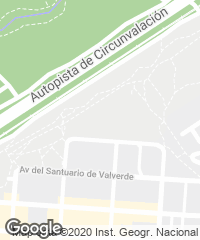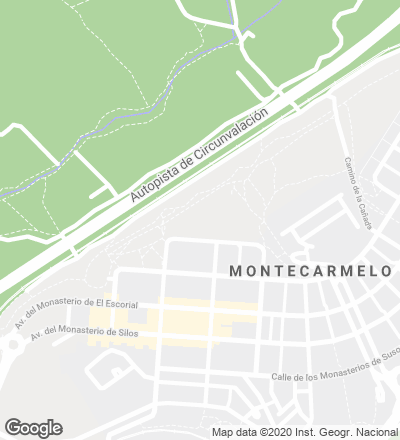 With a strong sculptural presence, the new building of the German School makes up for the lack of distinctive features in the Montecarmelo neighborhood north of Madrid, generating a new geometric landscape that engages in dialogue with the natural environment. Although there are no specific urban landmarks around the site, it does enjoy views of the landscape and the mountains, so the project combines these two opposing situations: on the one hand it isolates itself from its surroundings with spaces that face the interior courtyards and at the same time it opens up through windows that frame fragments of the landscape.
The program is divided into three main areas, one for each educational stage: kindergarten, primary school, and secondary school. It also has other common areas like a sports hall, dining room, and auditorium. The distribution of the different areas is based on fractal geometries, where the basic structure is repeated at different scales using one same ratio of dimensions. In this way, each area functions independently and is legible as a clearly defined unit but also belongs to a unitary organic ensemble. The empty spaces are also fragmented so that children can find their own playing area, in contrast to the large esplanades usually found in schools.
Aside from the front plaza, which functions as an open foyer, and the sports field at the rear, the complex also has partially covered courtyards between the buildings. A series of polygonal openings pierces the ceiling of these spaces creating a pattern of lights and shade that changes throughout the day. This perforated screen protects students from the harsh summer sun, provides shelter from rain, and lets wind pass towards the interior of the courtyard.
To ensure that the building would adapt sustainably to the weather conditions, the architects – used to working in cold climates – analyzed ancient techniques and adopted some of their basic principles, reinterpreted through contemporary means. This is the case of the climate control systems, inspired in Roman hypocausts, which uses the thermal inertia of the ground to cool or heat the air through a subterranean thermal maze. Besides, the building includes heat recovery systems, as well as enclosures and window frames with high insulation properties. For all this the project merited the Architecture and Energy Award given by the German Ministry of Economy.
Cliente Client
Federal Republic of Germany, Federal Ministry for the Environment, Nature Conservation, Building and Nuclear Safety, Federal Office for Building and Regional Planning (project manager Gunter Machens) and Association German School Madrid; Project Management: Bureau Veritas Construction Services (project director Christian Gerlach)
Arquitectos Architects
Grüntuch Ernst Architects
Armand Grüntuch, Almut Grüntuch-Ernst
Colaboradores Collaborators
E. Behrends, F. Fels, O. Menk, A. Löbbecke, J. Schoppe (directores de proyecto project directors); B. Bühs, A. Acosta, I. Arranz, R. Ayuso, C. Baixauli, M. Ballesteros, T. Balzereit, A. Berger, J. Blechschmidt, M. Cremer, B. Figueroa, J. von Fritschen, M. García Méndez, J. García Puyuelo, I. Gruchot, J. N. Henning, K. Herresthal, G. Hinrichsen, M. Hinrichsen, L. Jeschke, R. Juárez, J. Klose, M. Lassan, I. León, D. Linder, S. Manz, E. Martínez del Pozo, V. Martinez, A. Müller, A. Nemetz, M. I. Ortega, A. Pascual, J. Promewongse, D. Queck, L. Schäfer, K. Schuch, B. Solórzano, K. Thomsen, P. Claudio Wegmann, H. Wiethaus, V. Wolff, A. Wolska (equipo de proyecto project team)
Consultores Consultants
GTB-Berlin (estructura structural engineering); Mike Schlaich (ingeniero de control checking engineer), Ingenieurbüro für Haustechnik KEM (instalaciones building services);Transsolar Energietechnik (energía energy technology); Klaus Daniels / HL-Technik (concepto energético concurso energy concept competition); Müller-BBM (instalaciones building services); hhpberlin (protección incendios fire protection); Úrculo Ingenieros (protección incendios / instalaciones fire protection / building services); Lützow 7 (paisaje open space planning); LichtVision (iluminación lighting design); Carsten Nicolai; Folke Hanfeld (arte art)
Superficie construida Floor area
27.065 m²
Fotos Photos
Jan Bitter, Celia de Coca, BBR, Tafyr