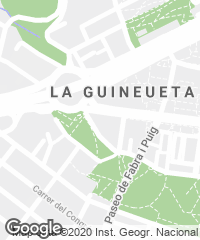 In the district of Nou Barris, in the north of Barcelona, the City Council is promoting a series of measures – public parks, equipments, social housing – aimed at correcting its lack of collective facilities, something common to all the residential areas built in the fifties and sixties. In the area accessed from the Ronda de Dalt beltway and aligned with the Paseo de Valldaura, main axis of the neighborhood, rises a new residential building, preceded by fifteen-story towers that, in groups of three in each stretch of the street, show the features of urban development in these years.
Elevado sobre un zócalo que mantiene la secuencia visual del paseo, este híbrido entre bloque y torre se escalona tanto en planta como en altura para suavizar su imagen y optimizar los espacios de sus 160 viviendas.
Regulations determined a volume of 106 meters in length and ten floors, that gave way to an organization in cores with four flats per landing, illuminated by narrow courtyards, that are really air stacks. As an alternative to these parameters and focussing on the tower trios of the avenue, the volumetry is built with stepped volumes of eight, eleven and fifteen floors, displaced on plan and joined by a continuous plinth of shops that ensures the visual sequence of the street. The final configuration benefits from two apparently opposite typologies: the linear block and the tower. Following the strict regulations that apply to the design of communication cores – derived from the fifteen stories –, the 160 residential units are organized around three stairwells, that give access to six of them per story.
The flats offer many possibilities (four, three, two-bedroom and duplex), with the kitchen-dining room always connected to the living room and bathrooms grouped whenever possible. The displacement of the duplex flats allows double-scale elements to appear on the external facades, thereby breaking their monotony. The different uses – residential, commercial and parking – are made compatible by way of a uniform grid with an average span of 5,5 x 5,5 meters. The three vertical nuclei, formed the screens of U-shaped reinforced concrete, complete the design by acting as rigidizing elements.
The shifts on plan and volume are supported by an enclosure that combines prefabricated concrete panels with fiberglass and undulating aluminum sheet. The interior of the large voids that house the terraces are clad in warm materials and tones: ceilings made from treated wood and ocher colored stucco on the walls. The clotheslines are concealed behind adjustable metallic slats, which can be seen in front of the transparent glass parapet of the balconies.
Cliente Client
REGESA
Arquitecto Architect
Joan Pascual Argenté
Colaboradores Collaborators
Rosa María Vila, Ramón Ausió, Cristóbal Fernández, Esteve Puigdengolas, Salvador Mora (arquitectos architects); Jordi Bravo (jefe de obra site supervisor); Francesc García, Xavier Humet (aparejadores quantity surveyors)
Consultores Consultants
Lluís Duart (instalaciones mechanical engineering); STATIC, G. Rodríguez
(estructura structure); Abel Salmerón, Carmen Contreras (fachada facade)
Contratista Contractor
Construcciones PAI
Fotos Photos
Alejo Bagué