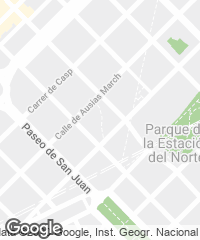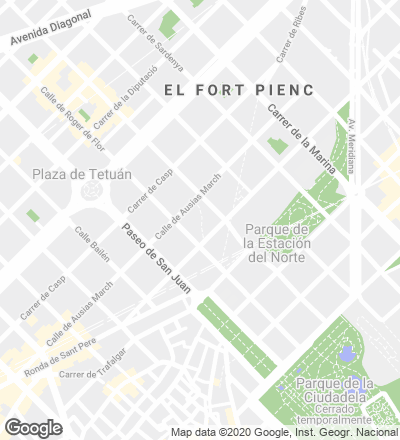 This project to regenerate and define the urban fabric, through the construction of three new residential pieces, has been carried out in a typical block of the Cerdá Ensanche. Two corners opposite the block remain open, thus creating an itinerary that crosses it, maintaining the route of the old Horta road and giving access to the inner courtyard. Renewed and landscaped, this courtyard houses a low-lying building devoted to social services for the neighborhood, also part of the project, aligned with bands of different use and paving treatment. The insertion of this public facility aims to revitalize the area, and so this building of pure lines, made of concrete, glass, perforated aluminum and with a zinc roof, is inscribed within a trend of recovery of the interior courtyards of the Ensanche, with the replacement of old shops and warehouses with facilities, dwellings and retail areas.
The three residential buildings have a unitary image, which derives from the use of the same materials and elements, such as a type of latticework panels that provide different degrees of exposure and protection. However, the different circumstances produce variations and nuances. Thus, in the two facades that are more in contact with the city one finds two different solutions: in Roger de Flor the concrete slabs are trimmed and folded offering oblique views, whereas in Nàpols street striated panels that perform as a second skin reduce those frontal views of the facades facing one another.
At the corner that gives access to the interior garden from Ali Bei street rises a first building that contains twenty small apartment-studios. Four per each one of the five floors and linked by a corridor that is attached to the party wall and connects the vertical access, which faces the interior courtyard, with the last dwelling, which ends at a corner onto the street. Each apartmentstudio is divided into two bands, parallel to the corridor and to the facade: one for the kitchen and bathroom and the other for the living area and bedroom. This last one is extended in all the dwellings with balconies overlooking the diagonal promenade.
The dwellings of the other two volumes are larger. The one on Nàpols street has two threebedroom flats and two four-bedroom ones around the core of stairs and two patios; and the one on Roger de Flor street organizes three adjacent modules per floor, each one with four dwellings ranging from one to three bedrooms... [+]
Cliente Client
Pro-Eixample
Arquitectos Architects
Carlos Ferrater, Ana Ferrater, Anna Vidal
Colaboradores Collaborators
Massimo Basile, Angela Jöhr, Oriol Solanes; Adrià Guevara (aparejador quantity surveyor)
Contratista Contractor
Metro 3
Fotos Photos
Alejo Bagué