Housing in Plaza Lesseps
OAB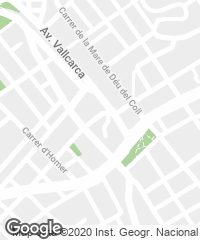 Included in one of the new metropolitan plans of the city of Barcelona, the building groups 56 apartments, several shops and a parking garage in Lesseps square – in the De Gràcia neighborhood –, which has recently undergone an important redesign, including the opening of a new street. With a marked organic character, the building has been designed starting from a single volume that breaks up into two pieces, with a narrow courtyard between them. With this decision it has been possible to make the most of the bay and to design apartments with eight-meter spans that guarantee ventilation and natural illumination in all the rooms.
Located in the De Gràcia neighborhood, the building accommodates apartments and shops in two volumes separated by a narrow courtyard, while the parking is organized in three floors below street level. 
The design of this elongated space, as well as the creation of a fold in the corner that gathers the double side facade of the building, strengthen the fracture of the volume, emphasizing the idea of lightness and the vertical character of the complex. Moreover, this space allows endowing the shops on ground floor with a rear door from the courtyard, complementing that of the main facade. The parking area takes up three floors below ground level, with a single access through Riera de Vallcarca street, via a ramp located by the party wall, which stretches at the lowest level of the whole site. Tenants enter through four entrance doorways; two on the north facade and two on the southern one.
The enclosure is made of fixed metal shutters which are combined with sliding ones that protect the large terraces – designed to establish subtle relationships between the interior and the exterior spaces – and at the same time, they gradate the intensity of natural light. The latticeworks have been built with vertical mullions of stainless steel and crossbeams of tubular section painted in a pearl-gray tone, framed by thin steel handrails that form a grid. The vertical elements mark a rythmic sequence on the facade, whereas the vertical ones conceal the thickness of the slab edges.
The enclosure is finished with fixed metallic slats that are combined with sliding ones to protect a second layer of window frames; between both skins there are transition spaces that nuance the relationship with the city. 
The external enclosure protects at once a second layer of metallic frames that wraps the volume along its entire perimeter, generating small interstitial spaces between both skins, which act as transition areas between the city and the interior spaces of the apartments. The building, located next to the award-winning Jaime Fuster Library, and strongly marked by the influence of the domestic architecture of the Catalan José Antonio?Coderch, has become a new icon in this bustling city square.
Cliente Client
Metro-3
Arquitectos Architects
Carlos Ferrater, Lucía Ferrater, Xavier Martí Galí
Colaboradores Collaborators
Nuria Ferrés Herrera, Celestí Ventura Cisternas (arquitecto técnico budget supervisor)
Consultores Consultants
Talleres Valeriano Montón (industrial industrial enginner), Technal (carpintería de alumnio aluminium frame)
Fotos Photos
Alejo Bagué