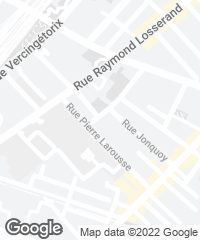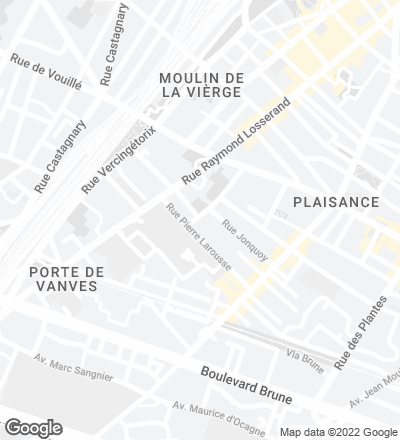 Two distinct urban situations characterize the housing project in 14th arrondissement of Paris; on the one hand, the blocks facing the Rue de Suisses and the Rue Jonquoy and on the other, the courtyard with high fire walls at the back.
Two apartment buildings on the Rue des Suisses and the Rue Jonquoy are incorporated in the frontage, typical of housing blocks in many Parisian arrondissements. Verticals characterize the overall design of the relatively homogeneous facades of the adjacent buildings. As in most Parisian quarters of the 19th century, the street thus conveys a certain elegance despite the fact that the individual buildings are not particularly attractive. The two new apartment buildings with their folded frontage and folding shutters fit seamlessly into this vertical arrangement. The folding shutters can be adjusted individually by tenants so that, in spite of the targeted uniformity of the facades, the overall impression of their appearance varies. As in the neighbouring buildings, the flats are accesed via a central staircase, with a concierge checking the entrance on the Rue des Suisses.
The situation in the rear courtyard was entirely different, because there were no predetermined urban specifications to use as a typological basis. What city-planning strategies should be pursued? What kind of buildings, what kind of architecture should be placed there?
The objective here was to realize a model relatively unusual in the centre of Paris, and that would attract a different kind of tenant than the street-front buildings. Instead of competing with the towering fire walls, a horizontal strategy was used, that is, the buildings were kept low to ensure that as many flats as possible would be directly connected with the grounds and garden.
An extended, three-story structure with arcadelike balconies forms the backbone of the complex in the interior of the block. Adjoining it are cottage-like, one-storey buildings for the kitchens and bathrooms. In front of the long garden wall that runs along a school playground, we built a few extra small, one-family homes with gabled roofs. The result looks like a seemingly random system of small units, courtyards and lanes with fragments of old and new walls covered with cultivated and wild vegetation.
This urban model is inspired in a still older, pre-Haussmann quarter, little streets like the Villa Jamot or the Villa Duthy, whose small scale and proportions are reflected in the new buildings.
Cliente Client
Règie Immobilière de la Ville de Paris
Arquitectos Architects
Jacques Herzog, Pierre de Meuron, Christine Binswanger, Sacha Marchal
Colaboradores Collaborators
B. Berec, A. Bernhard, R. Hösl, S. Kleinlein, M. Meier, R. Oechslin, S.Wolff
Contratista Contractor
Bouygues SA, París
Fotos Photos
Margherita Spiluttini, Christian Richters, Olivier Wogenscky