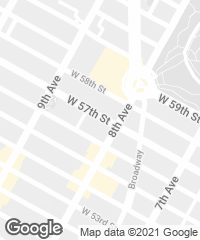 Hearst Tower revives the dream of William Randolph Hearst, the publishing magnate who envisaged Columbus Circle as a new media quarter in Manhattan. In 1920, Hearst commissioned the Viennese Joseph Urban to build a six-storey Art Deco block on Eighth Avenue, anticipating that it would form the base for a tower, though no such scheme was ever advanced.
The new tower rises above the old building to a height of forty-four storeys. Establishing a creative dialogue between old and new, the tower is linked to the existing building by a transparent skirt of glass which floods the spaces below with natural light, giving the impression of a glass tower floating weightlessly above.
The main spatial event is a vast internal plaza, an urban room that occupies the entire shell of the historic base. This dramatic space, surrounded by the original windowed masonry walls, creates a bold entrance that echoes the tone and texture of the Art Deco exterior to evoke a sense of the civic realm. Like a bustling town square, this dramatic space provides access to all parts of the building. It incorporates the main elevator lobby, the Hearst staff cafeteria and auditorium, and mezzanine levels for meetings and special functions.
Structurally, the tower has a triangulated 'diagrid' form – a highly efficient solution that uses 20 per cent less steel than a conventionally framed structure. With the corners cut back between the diagonals, it creates a distinctive facetted silhouette on the Manhattan skyline.
The building is also significant in environmental terms. It was built using 85 per cent recycled steel, its heating and air-conditioning equipment utilises outside air for cooling and ventilation for nine months of the year, and it consumes 25 per cent less energy than an equivalent office building that complies minimally with the respective state and city codes As a result, it was the first office building in Manhattan to achieve a gold rating under the US Green Building Council's Leadership in Energy and Environmental Design (LEED) programme. Next to the stairs of access, the two-storey high Icefall – a collaboration with Jamie Carpenter and Jim Garland – uses collected rainwater to cool the atrium in summer and humidify in wintertime.
Set against the elegant grey stone of the elevator core, a mural by artist Richard Long, painted using the mud of the Avon and Hudson rivers, celebrates the metaphor of the river as a symbol of journey, movement and life.
Cliente Client
Hearst Corporation
Arquitecto Architect
Foster + Partners
Colaboradores Collaborators
Adamson Associates
Consultores Consultants
The Cantor Seinuk Group (estructura structural engineering); Turner Construction (aparejador quantity surveyor); Flack & Kurtz (instalaciones M+E Engineering); George Sexton and Associates (iluminación lighting engineering); Higgins and Quasbarthm, VDA, Cerami, Ira Beer Assocates, Steven Winter Asssociates, Tishman Speyer Properties, Cricursa
Fotos Photos
Nigel Young / Foster + Partners; Chuck Choi; Roland Halbe; ALBUM/View Pictures/Edmund Sumner