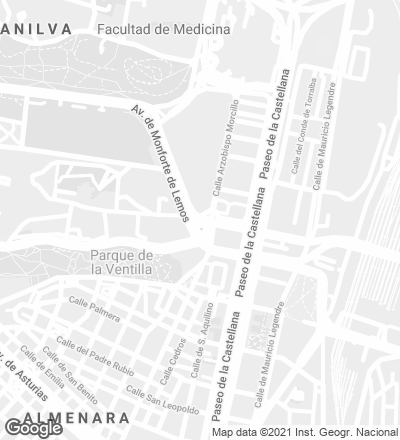 Located on the site of the former training grounds of the Real Madrid, the Cepsa Tower is one of the tallest buildings in Spain, with 34 floors of offices and rising 250 metres high.
Initially promoted by Repsol YPF, which began construction works in 2004, Repsol sold the building to Caja Madrid (now Bankia), and finally, after an agreement reached in October 2013, the company Cepsa will turn the tower into its business headquarters.
The site assigned by the Madrid City Council for the construction of four new towers marks a curve in the wide boulevard of the Paseo de la Castellana – the 'backbone' of Madrid – and is carefully positioned to maximise the exceptional qualities of its site. Rising on the southern end of the site, this tower is the one closest to the city, with vantage views. Compositionally, the building can be thought of as a tall arch, with the services and circulation cores framing the office floors. At ground level, a 22-metre-high glazed atrium provides the transition from the street, and accommodates a 'floating' glass-walled auditorium set into a mezzanine. At the top of the building, the void beneath the uppermost section of the 'portal' frame is the most distinctive aspect of the building, and was designed to eventually house wind turbines, which are capable of providing a significant proportion of the building's power supply.
Although the building was conceived as a corporate headquarters, it also has the flexibility to be partly sub-let if required, enabling to expand or contract its accommodation easily in the future.
This degree of adaptability results in part from pushing the service cores to the edges of the plan – a strategy pioneered in the design of the Hongkong and Shanghai Bank – to create 1,200-square-metre floor plates. The north-south orientation maximises natural shade by directing the low-angle sunlight towards the cores, a move that has the added benefit of framing spectacular views of the hills of Sierra de Guadarrama to the north and the centre of Madrid to the south. Strategies such as triple-glazing the office facades further improve the building's energy efficiency.
The building has two concrete cores that support all its weight. The offices are grouped into three large glazed volumes, each one supported by metal trusses. The side cores are clad with steel panels that give the tower a characteristic sheen.
Cliente Client
Repsol YPF
Arquitecto Architect
Foster + Partners
Colaboradores Collaborators
Gonzalo Martínez-Pita Copello; Javier Martín Mínguez (aparejador technical architect)
Consultores Consultants
Halvorson and Partners, Arquing (estructura structural engineering); Aguilera Ingenieros S.A (instalaciones M+E Engineering); Años Luz (iluminación lighting engineering)
Fotos Photos
Nigel Young / Foster + Partners; Miguel de Guzmán