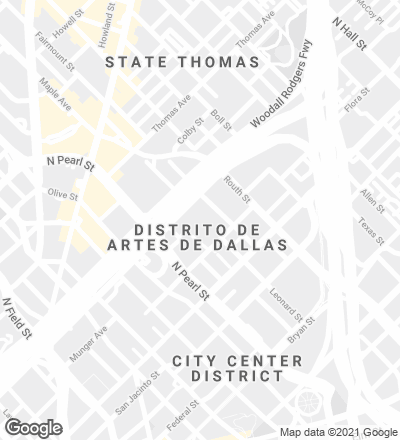 The new Winspear Opera House in Dallas redefines the essence of an opera house for the twenty-first century, breaking down barriers to make opera more accessible for a wider audience. Responding to the torrid Texan climate, a generous canopy surrounds the building, revealing a glazed 18-metre-high lobby. This establishes a direct relationship between inside and outside. Beneath the canopy, a shaded plaza gives the city a new public space.
The design of the opera house follows the practice's formulation of a masterplan for the entire Dallas Arts District, which contains buildings by three other Pritzker Prize winners: Rem Koolhaas, I.M. Pei and Renzo Piano. Among the outdoor spaces it connects with is the Annette Strauss Artists' Square, with its open-air performance venue for 5,000 spectators, a café terrace and the main entrance to the opera house, with access to the underground parking garage.
The Winspear Opera House creates a series of publicly welcoming transparent spaces that wrap around the rich red drum of the 2,200-seat auditorium. Its long opening hours and the presence of a café and restaurant make it a popular destination in its own right, independently of shows inside. The transition from the canopy area into the auditorium has its climax in the foyer, whose multi-height design turns opera-goers into 'see and be seen' actors. The grand staircase, skirting the drum and linking all the lobby spaces, also provides a high place from which to admire the building.
As for the actual auditorium, a classic horseshoe plan and the stacking of seating balconies together bring the audience as close as possible to the stage while guaranteeing excellent acoustics. The balcony fronts have a white gold irregular finish and their interiors are clad in dark red velvet, details improving the resonance of sound. To heighten the drama of the spectacle, a huge chandelier made of hundreds of transparent rods and creating an inverted cone of light ascends into the ceiling before the performance begins.
Punctuated with indigenous trees, the public spaces beneath the canopy benefit from a cool microclimate that becomes an integral part of the building's overall energy strategy. The Grand Plaza responds to the grid of the canopy with a scored pattern set into the pavement, referencing the wider urban scheme of Dallas. 
Cliente Client
AT+T Performing Arts Center
Arquitecto Architect
Foster + Partners
Colaboradores Collaborators
Kendall Heaton Associates
Consultores Consultants
Buro Happold/Thornton-Tomasetti Engineers (estructura structural engineering); Donnell Consultants Incorporated (aparejador quantity surveyor); Battle McCarthy / CHP & Associates (instalaciones M+E Engineering); Michael Desvigne / Kevin Sloan, Dallas / JJR. Chicago (arquitectos paisajista landscape architect); Claude R. Engle Lighting Consultant (iluminación lighting engineering); Sound Space Design, Theatre Projects, Pielow Fair & Associates, Seattle, JGL Management Services and Cine Little, Engineering Harmonics Inc., Deshazo, Tang & Associates Inc., Carl Walker Inc., Dallas, Citadel Consulting Inc., Good Fulton & Farrell, HMA Consulting Inc., LZA Technology, McGuire Associates Inc., Persohn/Hahn Associates Inc., Wilson, Ihrig & Associates Inc., 2 X 4 Design
Fotos Photos
Nigel Young / Foster + Partners; Iwan Baan