Naoshima Ferry Terminal, Kagawa
SANAA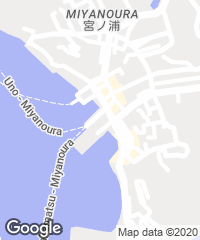 The Inland Sea (formerly named the Seto Inland Sea) is a body of water separating three of the main islands of the Japanese archipelago, connecting the Pacific Ocean to the Sea of Japan. In the region of Shikoku, among the more than three thousand islands of these waters, is Naoshima, a traditional fisherman's land known for the extraordinary beauty of its natural landscapes and that has become an important tourist site and center of artistic activity since the construction in 1992 of a museum of contemporary art designed by the architect Tadao Ando, which treasures a vast collection of art and has numerous installations in different parts of the island.
With tourism as the main economic source, the activity of the ferries increased considerably, which urged to build a new ferry terminal to centralize the main means of access by sea to the interior, thus improving the communications with the rest of the country. The place chosen for the terminal is close to the museum and the natural park along the coast, in a district south of the island known as Miyanoura, where a traditional fishing port is located.
A thin roof of metal sheet covers the large esplanade of the loading dock, generating a flat and weightless single-story volume that accommodates the terminal's facilities behind a glass enclosure: a foyer, a customer service and ticket office, a souvenir and coffee shop and a generous, flexible designed to adapt to different kinds of public events. Furthermore, and to emphasize the concept of the interior space as an extension of the public space adjacent to the site, the terminal has a waiting hall open to the passenger boarding dock and a parking area with direct access to the dock to ease the loading and unloading of cars onto the boat.
The lightness of the volume derives from the slender roof – which is only 15 centimeters thick –, the multiplication of the number of supports to reduce its section and the dematerialization of the construction elements through the use of reflecting surfaces for the finishes. In this way, the vast surface of the steel roof, a rectangle measuring 70 meters in length and 52 meters in width, rests on an orthogonal grid of slender tubular columns of 85 millimeters in diameter that take on the vertical stress, whereas horizontal loads are resolved with eight structural panels of steel with a mirror finish, arranged randomly over the floor plan surface.
Cliente Client
Prefectura de Kagawa (Kagawa Prefecture)
Arquitectos Architects
Kazuyo Sejima+Ryue Nishizawa/SANAA
Colaborador Collaborator
Rikiya Yamamoto
Consultores Consultants
Sasaki Structural Consultant (estructura structure); Kankyo Engineering (instalaciones mechanical engineering)
Fotos Photos
Shinkenchiku-sha