Glass Pavilion, Toledo Museum of Art, Ohio
SANAA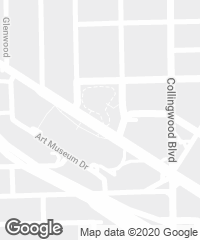 The city of Toledo, in the northwest of Ohio, reached a high level of prosperity during the 19th century with the making and production of glass, which became the base of its economy. Though currently the city's glass industry has practically disappeared, the Toledo Museum of Art – transformed today into a centennial institution – has decided to extend its facilities with the construction of an annex to custody and display the museum's impressive collection of glass artworks (over 5,000 pieces) and guide visitors through the glass-making process. The Glass Pavilion rests on a park located south of a residential area dotted with Victorian houses, without touching a dense oak grove, in front of the museum's main building, a neoclassical structure of 1912 that underwent a minor intervention to extend one of its wings with the University of Toledo's Center for the Visual Arts, designed by Frank Gehry in 1993.
The light, low-lying and deceptively simple volume in fact accommodates 7,000-squaremeters of exhibition and storage zones divided into two levels, with the exhibition area on ground floor – conceived as an open-plan space – and a didactic workshop on glass-making in the partially burrowed lower level. Based on a grid of rectangular forms, the floor plan evolved until it reached its current spatial configuration in which the exhibition halls are contained inrounded glass rooms wrapped in a secondary skin of the same material. In these panels the tempered glass – with a greenish hue – has been replaced with a clear glass that brings in the views of the landscape, which accompanies visitors throughout their visit. The continuous skin that wraps the pavilion is topped with a thin and flat roof that rests on circular-section columns, most of which are embedded within those rooms that have an opaque enclosure, and which are therefore used to display the more light-sensitive objects.
Between most of the volumes there are interstitial spaces that perform as buffer zones to reduce noise and moderate the strong climate changes produced inside the glass-making workshops – with furnaces that reach extreme temperatures –, the exhibition areas of the museum and the outdoors. Furthermore, a high-tech climate control system allows adjusting the temperature in each hall and prevents the condensation of humidity on the glass surfaces.
Cliente Client
Toledo Museum of Art
Arquitectos Architects
Kazuyo Sejima+Ryue Nishizawa/SANAA
Colaboradores Collaborators
Floroan Idenburg, Toshi Oki, Takayuki Hasegawa, Mizuki Imamura, Keiko Uchiyama, Yutaka Kikuchi, Junya Ishigami, Tetsuo Kondo, Larry Burns, Nobuhiko Shoga
Consultores Consultants
Sasaki and Partners, Guy Nordenson and Associate (estructura structure); Cosentini Associates (instalaciones mechanical engineering); Shozo Toyohisa, Arup Lighting (ilumimación lighting designer); Front (fachada façade); Havey Marshall Berling Associates (acústica acoustics); Neville Tree & Landscape (paisajismo landscape)
Fotos Photos
Shinkenchiku-sha, Kazuyo Sejima+Ryue Nishizawa/SANAA, Christian Richters