Koga Park Café, Ibaraki
SANAA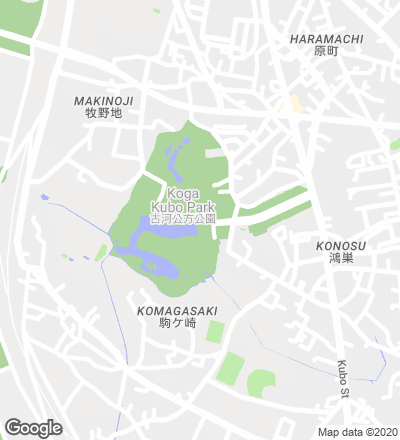 In the center of Kanto region, sixty kilometers north of Tokyo, the Park of Koga takes up a surface of 25 hectares. Submitted to a strong real-estate pressure due to its proximity with the Japanese capital, the park has been preserved as a landscape of extraordinary beauty thanks to the work carried out by the landscape artist Yoshio Nakamura between 1993 and 1997. Aside from its value as a natural site, it also has a strategic geographic position over an extensive plain that offers impressive views of the Kanto mountains, presided by Japan's highest peak, Mount Fuji.
Thought of as a place in which visitors can take a break and enjoy extraordinary panoramic views of the park, the light volume of the café rests against the gentle slope of a hill, its south face overlooking a lake. The four facades of the building are enclosed in completely transparent glass, with sliding doors that can be opened up entirely in warm weather, favoring the circulation of air and offering visitors a unique space open to the landscape.
To minimize the impact of building in this natural environment, the physical presence of the elements is reduced as much as possible. To accomplish this, the structure – with a rectangular footprint measuring 25 meters in length by 10 meters in width – is topped with a single roof of 25 millimeter thick steel plate, supported by 100 slender posts of tubular steel. With a height of approximately three meters, the thin posts (60.5 millimeters in diameter) take on vertical stress and are more or less randomly placed within the precinct, whereas around the periphery of the building they form a sort of peristyle.
Four 60 millimeter thick steel-plate shear panels placed at each end help to counteract horizontal stress. They are all clad in mirror finished stainless steel that together with the use of reflectant surfaces for the furnishings – designed ex profeso for the pavilion – produce the desired symbiotic effect with the landscape. The reflections of the landscape on the vertical planes and on the furniture surfaces mix seamlessly with the surrounding views, which are brought into the building, blurring the distinction between interior and interior. This effect emphasizes the desired spatial ambiguity and gives the pavilion a neutral and immaterial appearance that transforms it into another element of the natural context, rather than an solid object placed on the landscape.
Cliente Client
Ciudad de Yokohama (Yokohama City)
Arquitectos Architects
Kazuyo Sejima+Ryue Nishizawa/SANAA
Colaboradores Collaborators
Yoshitaka Tanase, Go Kuwata
Consultores Consultants
Sasaki Structural Consultants (ingeniería structural engineers); System Design Laboratory, Nichiei Architects (instalaciones mechanical engineers)
Fotos Photos
Shinkenchiku-sha, Jin Hosoya