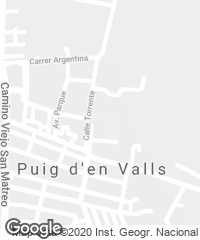 The construction of the Es Puig d'en Valls center started out with the design of a metallic structure to cover two existing outdoor sports grounds in this town near Santa Eulària des Riu, on the east side of the island of Ibiza. During this first construction phase the team was also commissioned to build a perimeter enclosure to wrap up the whole complex. This second phase of the project was influenced by the effects that light produced as it went through the roof.
The Ibiza project closes the existing fields with a metal sawtooth roof and an envelope perforated by brick latticeworks that filter Mediterranean light and enrich the interior spaces with different colors during the day.
On the premise of near-zero consumption of energy and with the objective of maintaining an outdoors feel indoors, the proposal developed into a permeable building that brings the rich nuances of the Baleares sunlight into the space throughout the day. Since it is a building composed of minimal elements – a small-size sports pavilion – the starting point of the project was to give each surface its own distinctive character: on one hand, the floor surface is painted in a deep blue tone, evoking the Mediterranean, and the ceiling is finished with corrugated aluminum sheet, which reflects the color of the floor and creates a submerged, uniform atmosphere; on the other hand, the perforated facades connect the indoors with the outdoors.
The perimeter walls are windowless – built with an exterior sheet of concrete block and lined internally with perforated brick – combined with latticeworks of exposed white brick layered in a uniform pattern, with opaque and lattice sections alternating. 
The composition of the walls varies depending on the orientation: the north and south facades are organized with continuous bands, while along the opposite ones the sawtooth roof evokes the profile of the mountains. Filtered subtly through these clear elements, light floods the interior and fills the space with color nuances changing with sunlight throughout the day, from the bright white of the morning to the orange and ocher tones of dusk. Complementary to these, the north-facing skylights bring in a soft and even light.
The choice of building systems was based on the need to make the most of the climate conditions, and to guarantee natural ventilation and lighting. The space is therefore wrapped with an enclosure that is open but 24 centimeters thick to keep out water even in extreme weather conditions. 
Cliente Client
Ayuntamiento de Santa Eulària des Riu
Arquitectos Architects
MCEA | Arquitectura
Colaboradores Collaborators
QL Ingeniería (estructura structure); María José González Vicente (mediciones measurements)
Contratista Contractor
TECOPSA
Superficie construida Floor area
2.310 m² (4.313 m² parcela plot)
Presupuesto Budget
1.058.830 € (PEM)
Fotos Photos
David Frutos