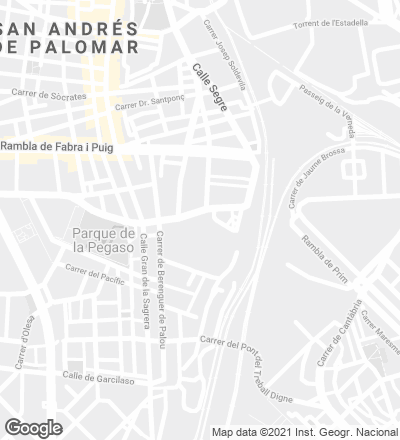 Given the huge volume of the functional program – three sports tracks – in regards to the reduced dimension of the plot and the high urban density in the area, an important part of the sports complex is partially buried. By working on the section of the building, the design guarantees good lighting and natural ventilation, a comfortable access, and safe evacuation even in the lower areas.
The decision to partially bury the volume not only reduces the visual impact but also generates an open urban space for the city. This space functions as a public foyer, as it is bound to welcome a high number of visitors and users at specific times. And aside from being a plaza of access to the precinct, it also marks the end of the street's expansion area.
With a prominent presence of ceramic, the construction system chosen deliberately revisits and recovers the old factories, warehouses, sheds, and workshops so common in the carea. The construction and material quality of the building constitute its formal expression and its final finishing, without added elements. The ceramic materials are prominent. The brickwork facades, of low maintenance, alternate solids and voids, opaque, translucid or transparent pieces, ceramic parts of different size and color, with the objective of making the building lighter while adding texture, grain, a vibrant pixellation of the built volume, adapting at the same time to the different orientations. The building's design thus combines lattices in exposed facades protecting the tracks from sunlight and from glare and also large glass surfaces in the lower level of the north facade opening up to the plaza of access.
The volume is rounded off with a roof formed by inverted vaults that establish a connection with the order and the presence of the roofs in the neighboring sheds, merging with the context and helping to lighten the volume of the complex.
Another intrinsic and deliberate consequence of partially burying the building is that its thermal inertia is increased, as the exposed surfaces are reduced. Energy efficiency starts out with the volumetric planning of the project. Later on, a whole series of measures at another scale, such as solar protection, cross ventilation, natural lighting, and the use renewable energy manage to reduce energy demand for its performance, which has earned the project a LEED Gold certificate. 
Cliente Client
Distrito de Sant Andreu/Ayuntamiento de Barcelona/BIMSA Arquitectos
Arquitectos Architects
UTE: AIA Activitats Arquitectòniques, Barceló-Balanzó Arquitectes, Gustau Gili Galfetti
Consultores Consultants
BAC (estructuras structures); AIA (eficiencia energética energy efficiency); SGS (dirección de ejecución site management); Qstudi (gestión de proyecto project management); Develop Index Ambiental (gestión LEED LEED management)
Contratista Contractor
UTE: OHL /Calaf
Superficie construida Floor area
7.237m²
Fotos Photos
José Hevia, Simón García