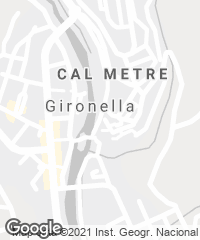 Located on the banks of the river Llobregat, Gironella is a Catalonian municipality split in two: on one side of the river is the town's gridded extension; on the other is the historical core, perched on a hill, which for accessibility reasons has been diminishing in population. An elevator has been provided to remedy this, connecting the riverbank below to the old quarter above and thus unifying the Gironella's two parts. Situated in a strategic enclave, the project adopts a material quality that echoes the surroundings, stratifying in accordance with the 24-meter altitude that the elevator box reaches. Whereas the first, lower 8 meters of the elevator shaft, safe in the shadow of an avenue lined with plane trees, are executed with glass, the upper 16 meters are coated with a lattice of perforated bricks lying on their sides, with a finish that echoes the colors and materials of the surroundings and serves to shield the elevator against overexposure to the sun...
[+]
Obra Work
Nuevo acceso al centro histórico de Gironella Access to Gironella´s Historical Center, Barcelona (Spain).
Cliente Client
Servicio de Patrimonio Arquitectónico Local (Diputación de Barcelona); Ayuntamiento de Gironella.
Arquitecto Architect
Carles Enrich Giménez.
Colaboradores Collaborators
Adriana Campmany, Àngel Rosales, Ada Sánchez.
Estructura Structure
MA+SAad.
Instalación ascensor Elevator
Inelsa Zener.
Constructor Main contractor
Construcciones Solà-Cardona.
Fotos Photos
Adrià Goula.