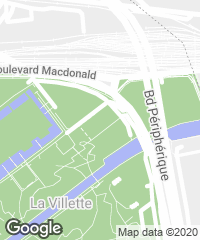 To build a restaurant, or rather, three restaurants, at the park of La Villette necessarily means to realize a tour-de-force. Everything there is one and has to be one from its very conception as an exposé of architectural advancement and international topicality. Tusquets's studio had the fortune not only of winning the competition for a restaurant, but also of seeing it, unlike other installations there, built quickly. And he was sensible enough to produce a building without referring in any way to those redcoated, concretefilled folies Bernard Tschumi sprinkled the park with, yet still minding the details of an elemental design.
Three corridors, three pavilions, three skylights. Restaurant, grillroom and pizza place: ellipse, square and square; three glass skylights: circle, square and triangle; and between every two pavilions, a gallery with a transparent roof. All true to fashion, but with rigorous detail. The white marble gives an extraordinary effect of purity to the facades, which open onto to a curious garden of black earth bordered by a pedestrian path. From the path the building is a perfect display of marble, glass and metal plate, all particularly elegant in the elliptic rotunda of the restaurant.
The project nevertheless changes on the more serious facade, the one facing Tschumi's colored artefact: the triple pavilion becomes a single linear element, an elongated wall in white marble where two grammatically difficult entries open. Tusquets seems to be drinking a toast to the architects of 1789, to visionaries like Ledoux, and he provides two eye-shaped entrances with an unproportionate keystone to hold up the sign announcing the premises. A blend of Ledoux and Venturi, the restaurant is thought out as three plain pavilions in a project paying close attention to construction and to interiors, for which Oscar Tusquets's craft in the field of design is surely an advantage.
The same painstaking care goes to the planting of small hedges in the black yard and to the plants growing in the crystal galleries, behind the two round entrances resembling the mouths of a stove... [+]

Cliente
Établissement public du Pare de la Villette.
Arquitectos
Oscar Tusquets y Carles Díaz con Marcos Roger y Pancho Ayguavives.
Consultores
Bet Figueras (paisajista).
Contratista
Cifra (constructora); Mármoles del Vallés.
Fotos
Gilíes Waluskinski y Uli Marchsteiner.