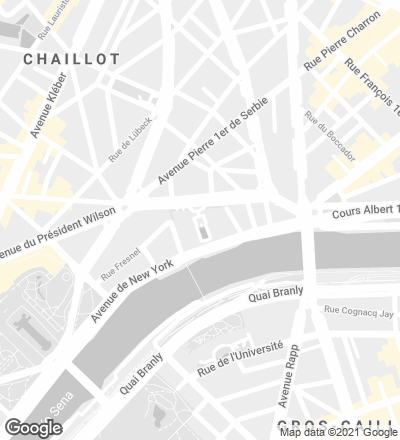 Before the completion of the Centre Georges Pompidou in 1974, the Contemporary Arts Museum was in the Palais de Tokyo, a large building raised on the banks of the river Seine on occasion of the 1937 World Fair. Once the collections had been moved, different transformation proposals were set forth, of which the most solid one was the project to build a Cinema Palace, but construction work for this project was interrupted during demolition.
In 1999, the French Ministry for Culture called a competition to develop a platform for contemporary creation that would bring the public closer to the different forms of artistic expression. Without transforming the original building, the winning proposal managed to bring out the intrinsic morphological qualities of the place without concealing its bareness, paying special attention to the expressiveness of a space whose open-plan recalls many industrial constructions. Two of the premises reflected in the bases – a reduced budget and the explicit reference to the term "installation" – served as guidelines for the design of the project, whose conception can be illustrated by establishing an analogy with the Djemaa-el-Fna square of Marrakech. In the same way as in this public area, the project starts from the perception of space as a context that the users constantly reshape; a place for meeting, without obstacles, with freedom of use, a space that changes depending on the activity of its participants. The Palais de Tokyo so becomes a unique place, with 8.000 square meters open from noon to midnight to every type of cultural activity, a place for visitors and a place to stay for artists, where both participate in an open debate.
The technical requirements that bore on the structural stability, the safety regulations, the accessibility and fitting-out of the installations have determined the proposal's design. The structure has been reinforced at specific points and, while the glazed facade has been maintained, the existing skylights have been replaced by other ones generally used in the agricultural industry and which incorporate systems to ensure ventilation. The purpose of this is to encourage a flexible relationship with the natural environment – light, wind, rain... – and the urban one, preserving the openness made evident by the demolition and revealing the internal logic of a building whose layout today is directly related to the activities it houses.
Cliente Client
Ministère de la Culture et de la Communication
Arquitectos Architects
Anne Lacaton & Jean-Philippe Vassal
Colaboradores Collaborators
(fase 1 phase 1) Florian de Pous, Jalil Amor, Mathieu Laporte, David Pradel, Emmanuelle Delage. Florian de Pous, Maud Chevet, Dimitri Messu, Bartolo Santos, Chloé de Smet, Joanne Rasse, Ambroise Bonal (fase 2 phase 2)
Consultores Consultants
(fase 1 phase 1) Ingérop (departamento de diseño técnico technical design department); CSTB (resistencia al fuego de la estructura fire resistance of structure); Gaudriot (seguridad ante incendios fire engineering) (fase 2 phase 2) AIA ingénierie (ingeniería de estructuras structural engineering); CESMA (ingeniería de estructura metálica metal structure engineering); INEX (ingeniería de instalaciones services engineering)
Contratistas Contractors
(fase 1 phase 1) Gery Dutheil (obra gruesa gros oeuvre); Ateliers David (cerrajería ironworks) (fase 2 phase 2) Laine Delau (obra gruesa gros oeuvre); CMF, Gilloots (ventanas windows); VULCAIN (cerrajería ironworks)
Superficie Surface area
7.800 m2 (fase 1 phase 1), 16.500 m2 (fase 2 phase 2)
Coste Cost
3.080.000 € (fase 1, sin impuestos phase 1, excluding taxes), 13.000.000 € (fase 2, sin impuestos phase 2, excluding taxes)
Fotos Photos
Philippe Ruault; Lacaton & Vassal