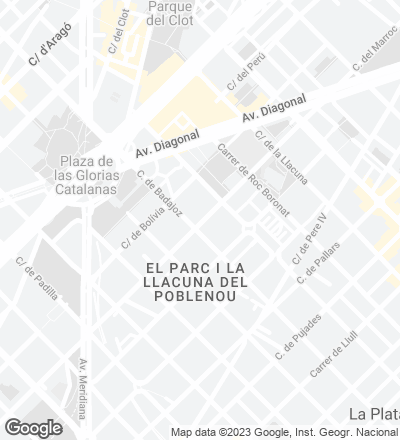 The entegra building is located in the 22@ technological district, on a characteristic chamfered corner of the Cerdà plot. The project's innovative charred timber facade and ventilation system, along with other energy-efficiency measures, allows it to be considered a nearly zero energy building (nZeb) which has obtained LEED Gold sustainability rating.
The timber facade has been built following the Yakisugi method. This traditional Japanese technique consists in charring the outer layer of the timber, creating a unique and attractive facade with great properties. The controlled charring of the wood gives the facade excellent fireproof qualities, and provides protection from damp, UV radiation, and insects. Thanks to this choice, the building's carbon footprint is considerably reduced and every cubic meter of timber can store approximately one ton of carbon dioxide.
The charring of the facade also contributes to the well-being of the users, as it brings warmth to the outdoor spaces. The plant-filled terraces on each floor intensify the relationship of the offices with the surroundings.
With the purpose of prioritizing pedestrian connections and sustainable mobility, the project dispenses with the parking for cars and the ramp it would have required. In exchange it has a permeable ground floor that emphasizes the chamfered corners of the Ensanche and the connection of the public space with the interior passages. A provision for bicycle parking greater than the regulations is offered, in addition to incorporating changing rooms to promote sports among the users of the building. These measures make the building the first in Europe to obtain the Cycling Friendly certification.
The facade creates an interplay of projections on the various floors, providing protection against solar radiation and reducing energy demand. To the same end, the optimal percentage of glass to solid in each facade was studied, creating the ideal balance between the use of natural lighting and the control of solar radiation or, in other words, between user comfort and energy efficiency of the building.
All roof elements are designed in white to prevent their materials from absorbing and storing thermal energy. Natural ventilation is also favored thanks to an intelligent system that, through sensors, opens windows on the facade to take advantage of cross circulation.
Cliente Client
Patrizia AG, Urban Input
Arquitectos Architects
Batlleiroig Arquitectura. Enric Batlle Durany, Joan Roig i Duran, Albert Gil Margalef
Equipo Team
Anna Lloret Papaseit, José Sanz Gorordo, Anna Porta Almagro, Marta Sanz Cuso
Colaboradores Collaborators
BIS Structures (ingeniería de estructuras structural engineering); ENAR Envolventes Arquitectónicas (fachada facade); G3 (arquitectos técnicos quantity surveyors)
Contratista Contractor
OCP – Obra Civil Profesional
Superficie Floor area
4.736m² (total); 310m² (exterior)
Fotos Photos
Oriol Gómez