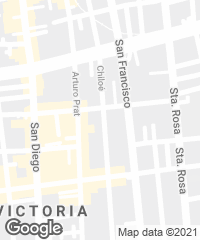 With a built-up area of 5,500 square meters, the Matta Sur complex comprises two volumes. First is the former Metropolitan Lyceum of Santiago – built in 1891 and structurally gravely damaged by the 2010 earthquake – has been consolidated and renovated to house a mix of uses in its three levels, including a daycare, a gym, and an auditorium. The other one is new-build and harbors a general healthcare clinic (CESFAM) in four floors. The Spanish firm of Luis Vidal has also created a public square at the heart of the site, giving citizens a new spot for social encounters.
The striking features of the Lyceum were recovered, and the clinic rises in a respectful language, establishing a dialogue between old and new. The historical building's L shape joins hands with the second construction's similar L form, closing up the rear of the plot and resulting in a courtyard that is the new public square. In this space, the CESFAM's facade repeats the Lyceum galleries that face it. So the clinic presents a double skin: an outer lattice of vertical wooden slats, and an inner one of glass panels. The porousness of all the inner facades strikes a contrast with the more hermetic character of the heritage building's street-side elevations.
The Matta Sur complex has won the First Prize for Public Building (Built) at the 2021 Rethinking The Future Awards.