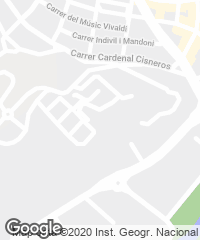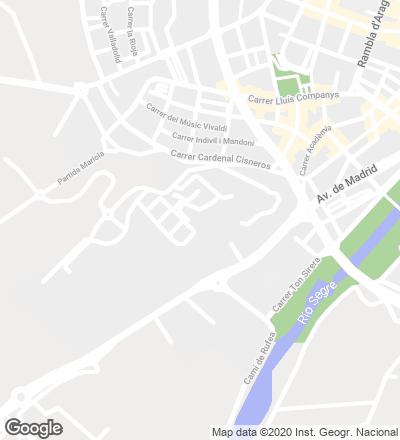 Located on an old barracks for infantry units in the Eastern Spanish city of Lérida, this new audiovisual production center gives new use to buildings which in the past surrounded a military parade ground, but addresses the more technological parts of its program – that is, the recording and filming sets – with a third volume, an altogether new construction which is designed as a neutral and flexible container. The former are built with walls of traditional masonry; the latter, with a lighter enclosure. But everything is given a sinuous and ethereal envelope which connects the three buildings, its concavity suggesting an opening to the entrance plaza.
This envelope is formed by textile canvases fixed to a substructure of steel tubes and struts arranged in accordance with a geometry of curved lines. Each compression ring of the subframe is slightly shifted with respect to the one under it, in such a way that the canvases, tautened between stretches, become complex warped surfaces which, besides producing a suggestive chiaroscuro effect, protects the building's inner layer against excessive solar radiation, thus performing bioclimate functions in the summer.
Obra Work 
Centro experimental de producción audiovisual multimedia 'Magical' en Lérida Experimental center for multimedia production in Lérida (Spain).
Cliente Client
Consorci Parc Científic i Tecnològic Agroalimentari de Lleida.
Presupuesto Budget
11.507.454 euros (1.497 euros/m²).
Arquitectos Architects
UTE Pich-Aguilera-Puigdemasa-Pamias-C.E.P.A.M. LLEIDA; Felip Pich-Aguilera Baurier, Josep Maria Puigdemasa Hospital.
Consultor de instalaciones Installations consultant
Manuel Guzmán.
Dirección de ejecución Site supervision
Felip Solsona, Marga Bernado.
Fotos Photos
Jordi V. Pou.