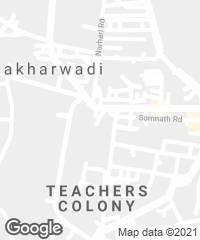 Jetavana is the name of the grove where, tradition says, the Buddha took walks, meditated, prayed, and preached, and where there was a great monastery and monks' retreat. It is also the name of a religious center in the town of Sakharwadi (India) that is part of a refinery for biological products whose employees mostly belong to the Theravada branch of Buddhism. The mythical references and the surroundings – a wooded area – made the presence of trees the main point of the design project, which presents a series of pavilions with traditional roofs and timber frames. Of these pavilions, the one reserved for Buddhist studies adopts a linear configuration and is composed of three parts. The top one is the pitched roof whose two planes slope upward, not downward, from the central line, forming along the middle a huge beam of reinforced concrete that then also serves as a gutter for rainwater collection. The bottom part shows walls of rammed earth perforated at intervals to form large windows and niches, including the most important niche at the end of the building's long axis, reserved for the image of Buddha. The middle part of the building is the gap left between the slanting wooden supports that hold up the roof over the lower walls; a void that makes it possible to give the construction adequate ventilation while poetically framing views of the treetops...
[+]
Obra Work
Centro de Estudios Budistas Jetavana Center for Buddhist Studies, Sakharwadi (India).
Cliente Client
K. J. Somaiya Center for Buddhist Studies.
Arquitectos Architects
sP+a /Sameep Padora and Associates.
Consultores Consultants
Rajiv Shah (estructuras structures); Hunnarshala (obra local y coordinación artisan consultants and coordinators).
Fotos Photos
Edmund Sumner.