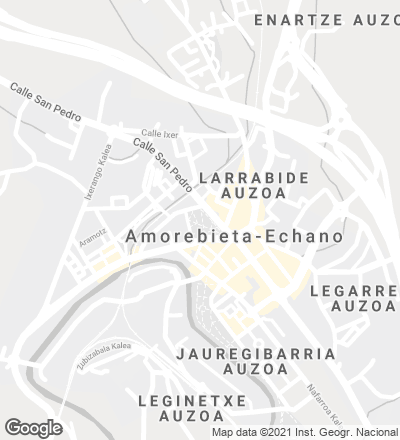 The project approaches the Zeleieta Zentroa building as an autonomous element. With this idea as starting point, the following objectives are set: in the first place, to turn its party wall into an extra facade to complete and wrap up the entire perimeter of the existing facilities; in the second place, to recover the original wall of the 'frontón' (party wall) and integrate it as true protagonist of the project, giving it visibility and showing the strata of time that can be recognized in the different superposed walls, preserving in this way the heritage and memory of the place.
Once the formal autonomy of the adjacent cultural center is assumed, the new Musika Eskola will function as an independent element, respecting the orthogonal criteria and abstraction of the facilities, but still being a singular and recognizable piece.
The dividing wall of the new adjacent facility is completed and the new building is separated to create a courtyard on the first floor and a void through the rest of the floors. The ground level is wrapped around a courtyard – functioning as a draining element and cistern in case of flooding –, and is set back with regards to the longitudinal facade, generating a courtyard along the whole floor that emphasizes the access.
The upper floors resolve the program forming a regular three-story prism, parallel to the new facade – dividing wall – and cantilevered. The compactness of the floors tries to optimize the available area.
To achieve a totally open floor, the structure is resolved along the perimeter so the facade becomes a load-bearing wall. The stairs are outside this prism, with a glass envelope for greater transparency. This staircase is conceived as an architectural experience so that the user can have a view of the park and grasp the courtyard's dimensions and the building's freestanding, abstract, and regular character.
On the first floor, a staircase permits the double evacuation of the multipurpose hall. The upper slab of the second floor, third floor, and roof is cut out against the foyer to achieve a double-triple space and skylight that connects all the floors and provides better lighting and a more public character, open toward the Zelaieta park-plaza.
The new building has obtained an A energy rating and uses more than 70% of renewable energies, in accordance with the nZEB (nearly zero-energy buildings) standards.
Cliente Client
Ayuntamiento de Amorebieta-Etxano
Arquitecto Architect
Javier de las Heras Solé
Colaboradores Collaborators
Gerard Codina Mas (arquitecto técnico quantity surveyor); Salvador Bou Gracia (arquitecto architect); Mercedes Sánchez Hernández
Consultores Consultants
Peio Egurrola Marzo (arquitecto técnico-dirección de ejecución quantity surveyor-execution director); Eskubi-Turró arquitectes (estructura structure); Proisotec (ingeniería engineering); Eko Ingenieria Acústica (acústica acoustics); Societat Orgànica (eficiencia energética energy efficiency); Doitu (topografía topographics)
Contratista Contractor
UTE Moyua-Bycam (constructora construction); Larraondo (carpintería carpentry); Uxama (fachadas singulares, fachada corten, vidrios, muro cortina singular facades, corten facade, glass, curtain wall); Radimer (electricidad, telecomunicaciones y placas solares electricity, telecommunications, solar panels); Vasa (instalador clima conditioning installer)
Superficie construida Floor area
1.010m²
Fotos Photos
Adrià Goula