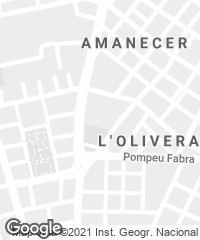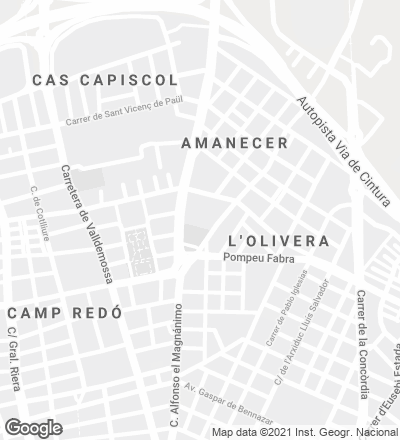 Located next  to one of the roads that leaves from Palma, the area which houses the School of Music and the Professional School of Dance of Baleares is surrounded by development sites. This commission was considered an opportunity to consolidate the urban calling of this peripheral neighborhood, hence the building was set out as a city of music that reproduces the labyrinthian structure of density and sparseness common to historic centers. Shunning to reflect the program's diversity by assembling singled out volumes, a system able to grow and change was proposed, so making it possible to build the whole in different phases. Its profile today is defined by a south facade that is set out as an X-ray of the second phase, displaying as windows what in the future will be classrooms, corridors and windows of interior courtyards.
To consolidate the urban calling of this peripheral site, the conservatory is organized as a city of music that reproduces the structure of streets and squares which characterize the urban center.
Nine staircases define the matrix in which classrooms, auditoriums and courtyards are inserted. The atriums act at once as activity areas, acoustic buffers and hall lighting. The ground floor gathers the public activities, transforming the interstices into a sort of agora which extends to the park that will take up the plots adjacent to the north and south of the premises. A mezzanine fills the spaces where the building's five meters of height are not occupied by the larger rooms. Its organization takes the unit's smallest rooms as starting point – the individual rehearsal booths – ten square meters bound by a brick and concrete cavity wall that ensures acoustic insulation. Gathered in groups of different sizes, these cubicles can be discerned through their blue cobalt tiling enclosure, establishing contact with the agora by way of ramps and voids.

Behind the perforated aluminum sheeting, the interior of the School of Music displays a complex color code, dodging the need for typographic signs. The varied activities planned for the rooms lead to using an acoustic absortion system with adjustable curtains. Their different density and tone was chosen to support an intuitive orientation within the city: the basic colors (red, yellow and blue) were assigned to activity areas, while their complementary ones (orange, green and violet) point out the lounging areas. With an ambiguous game of shades and reflections, the center's activity is filtered through the facades, tempting passers-by with a phenomenological approach to music and dance.
The individual rehearsal booth is grouped in larger units that are clad in blue glazed ceramic tile.
Cliente Client
Consejería de Educación, Cultura y Deporte
Arquitectos Architects
Jaime Coll & Judith Leclerc
Colaboradores Collaborators
S. Pieras, J. Carrascal, S. Salueña, G. Florit, J. Miñano, U. Grau, V. Argilaga; J. M. Ollér, Enric Peña (aparejadores quantity surveyors)
Consultores Consultants
M. Arguijo (estructura structure); A. Sánchez (instalaciones mechanical engineering); H. Arnau (acústica acoustics)
Contratistas Contractors
Dragados; Iturralde (ladrillo esmaltado glazed brick)
Fotos Photos
Eva Serrats