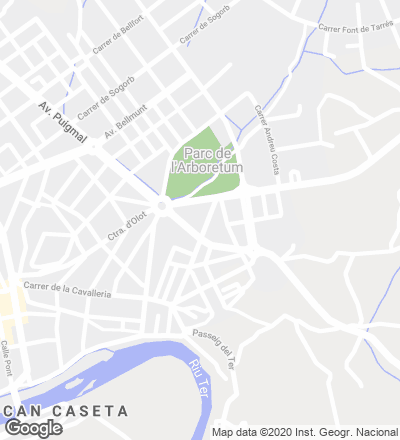 A triangular plot in a residential area of Manlleu and partially occupied by the municipality's summer swimming pools is the site for a series of new facilities including an indoor swimming pool. The perimeter of the plot is delimited by a palisade built with galvanized steel sheets, joined together only along the lower part, and which acquire rigidity through a fold. The separation between the pieces, as well as their size and orientation, establish different degrees of opacity depending on the position of the observer.
A prismatic volume that rests on the boundaries of the plot provides the background. In the initial project it was placed on a layer of water, seeking to materialize the idea of flotation and playing with watery reflections.?This thin layer symbolically made its way into the building in three different ways: like a crack, like a light courtyard and finally, as an element of separation between the pools and between the pools and the changing rooms. For this reason, the access takes place through a footbridge over the water.
In the proposal finally materialized – with a more restricted budget –, the entry is located in the central part of the building, after crossing a porch open to the exterior and with views of the summer swimming pools and which is accessed through a ramp. Thanks to it, from outside one directly reaches the upper area of the stands, descending later to the level of the swimming pools, separated from the changing rooms by a narrow and elongated courtyard that lets natural light in. At the same time, this level is equipped with a multipurpose hall that flows onto the landscape on its northern facade, and which is used as a gymnasium, training center and a place to celebrate different kinds of events.
Conceived as a prismatic volume, the new sports and recreational facility has been built with an enclosure of undulated steel sheets that make the facade take on the appearance of a moving,watery surface. 
The stands run along the fifty meters in length of the main swimming pool and open up to the landscape through a series of slats placed on the facade to protect the facility from excessive sunning. At the same time, they establish a filter with the place, regulating the differences in temperature and controlling the landscape views. The rest of the envelope has been built with corrugated steel sheets of different height, generating multiple reflections that endow the facade surface with a certain sensation of movement. In this way the enclosure acquires the qualities appropriate to a watery surface, strengthening the link existing between the building method used and the building's function.
Cliente Client
Ajuntament de Manlleu
Arquitectos Architects
Rafael Aranda, Carme Pigem, Ramón Vilalta
Colaboradores Collaborators
N. Portugal (proyecto project); X. Vilagran (dirección de obra site supervisor)
Constructor Constructor
Comsa
Consultores Consultants
Blázquez-Guanter Arquitectes (estructura structural engineer); Grau-Del Pozo (instalaciones electrical and mechanical engineer); G. Rodriguez (maquetas models); K. Fujii (visualización visualization)
Fotos Photos
Hisao Suzuki