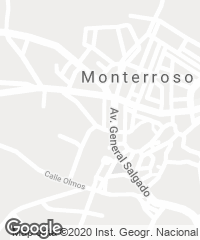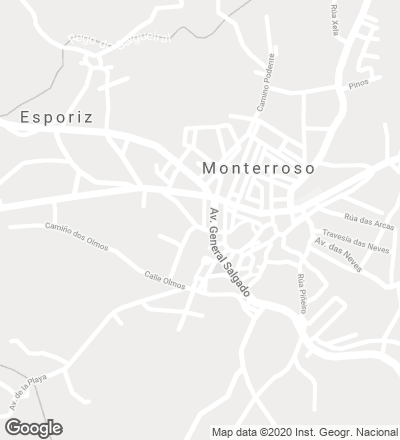 Monterroso is a small town in the interior of the province of Lugo, famous for the annual fair that has been celebrated annually for over 500 years on All Saints' Day. The municipality belongs to A Ulloa county and comprises 29 civil parrishes and 108 urban cores. As is usual in these cases, the health center services an area greater than that of the town itself, so the bus stop is particularly important in this project. A small green area connects the stop, located on the northwestern end of the block, with the health center, which is accessed through a paved area on the southwest corner.
Four courts nuance the contact with the exterior and illuminate the buried areas; a continuous slate skin covers facades and roofs, with strategic breaks of galvanized steel in the access, courtyards and windows. 
The building is slightly burrowed, which ensures that the upper street will have proper sunning conditions, but also that it will be read as a party wall, more in tune in terms of scale with the rural environment in which the building goes up. Starting from a compact prism, perforated by four courtyards, two isolated volumes trace a cracked profile.
The lower floor, totally buried, contains the women's clinic areas, physical therapy, dental care and the building services, illuminated and ventilated by courtyards to favor privacy. On the access level is the pediatrics area, the primary care doctor's offices, and the reception desk with the auxiliary services. Two independent spaces emerge on the upper floor; the restricted access areas for doctors, with a double height void over the main access, and a skylight that, with the setbacks in the west elevation, brighten up the waiting area.
The partially buried position of the building makes the roof stand out, which is clad in slate and in this way extends the facade skin. The detailing of the elevations is based on horizontal bands of different height, fragmented in a discontinuous manner in a vertical direction. Each one of the volumes rests on an aluminum substructure and is held by metallic pieces.
The roof is an inverted system, with insulation over the waterproofing, and a grid of adjustable plots on which three-centimeter-thick slabs rest. In strategic places like the accesses, courtyards and main openings, stone is replaced with galvanized steel panels with different nuances of color, shine and texture, depending on their position. The cladding of the exterior walls contrasts with the warm finishes of the interior, with walls clad in oak, polished pavements and white ceilings that spread sunlight.
Cliente Client
Sergas, Xunta de Galicia
Arquitectos Architects
Abalo Alonso arquitectos.
Elizabeth Abalo, Gonzalo Alonso
Colaboradores Collaborators
David Lareo, Manuel Sanmartín, Francisco Vázquez (arquitectos architects)
Consultores Consultants
Carlos Bóveda (estructura structure); Inaec ingeniería (instalaciones mechanical engineering)
Contratista Contractor
Ute. Samuel Requejo (jefe de obra site manager)
Superficie construida Floor area
1.491m²
Presupuesto (PEM) Budget
1.074.000 euros
Fotos Photos
Héctor Santos-Díez/BIS Images