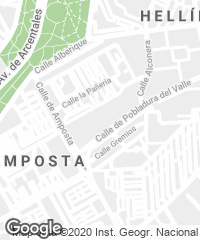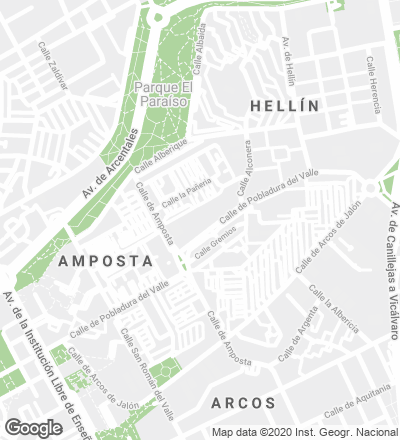 Close to the M-40 beltway, in an area with few urban references within the Madrid district of San Blas, rises this new health center. It is lined up with Pobladura del Valle street, where the two entrances to the building are located. The pedestrian circulation is separated from car traffic, revealing the organization of the program in a main ground level, to which a lower, buried level is subordinated. 
The different premises of the complex are organized by a scarcely dense orthogonal grill, which accommodates thirteen courtyards to separate public and private areas, following three longitudinal corridors.
Following the direction of the street, an orthogonal grid organizes the spaces around three longitudinal corridors that give service to a double bay.To moderate the intense occupation of the plot, thirteen courtyards are arranged following a zigzagging line to favor the separation of the public and private areas, permitting a proper natural illumination and ventilation of the interior spaces. 
Aside from the buildings for medical diagnosis and treatment, this municipal center pays special attention to prevention, with an important health education program. Solved with a geometry of pure forms, the main functions are on ground floor, grouped into two large blocks: administration and health. The first one includes the access lobby, the reception desks, offices, training halls, staff areas and restrooms; and the second contains the waiting areas, doctor's offices and auxiliary premises.
The pure geometric lines of the building's volumes aid in organizing a series of rooms and voids that structure the space and ensure a proper ventilation and natural illumination of every single interior premise.
The waiting areas, each of which services three doctor's offices, are conceived as widened corridors, illuminated by two inner courtyards. Moreover, the basement accommodates the zones for general services, with storerooms, dressing rooms and deposits, aside from a parking lot for 21 cars.
The control of the views necessary for the good performance of a program of this nature, developing as it does mostly at street level, is achieved by means of a massive and unifying enclosure of windowless walls of exposed reinforced concrete, whose bold character is emphasized by the rough brutalist texture, resulting from the use of wood formwork with carefully placed horizontal strips. These walls extend toward the interior to define its structure, highlighting the contrast with the materials used for the inner courtyards.
While the glass surfaces are worked out with a simple construction detail, a careful attention was devoted to the horizontal rhythm of the wood shuttering, which gives the walls their characteristic rough and bumpy texture.
The walls of these open spaces are completed with a tile cladding whose lacquers interact with the enclosing glass surfaces, producing sparkles and transparencies. The height of the space of the courtyards is underscored by the prismatic volumes that protrude over the profile of the complex.
Cliente Client
Madrid Salud, Ayuntamiento de Madrid
Arquitectos Architects
María Hurtado de Mendoza Wahrolén,César Jiménez de Tejada Benavides, José María Hurtado de Mendoza Wahrolén Colaboradores ColaboratorsJorge Martínez Martín, Laura Frutos Campelo, Vincent Rodríguez, Fabrice Quemeneur, Filipe Minderico, Clara Rodríguez, Marco Plazogna; Juan Carlos Corona Ruiz, David Gil Crespo(aparejadores quality surveyors)
Consultores Consultants
Francisco Duarte Jiménez (estructura e ingeniería structure & engineering) Contratista ContractorJ. Quijano
Fotos Photos
Roland Halbe