Save the Children Foundation, Madrid
Elii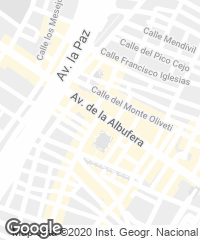 In 2016 the architecture studio elii won the  competition to transform a building of the Save the Children Foundation – located in the San Diego quarter of Vallecas, in Madrid – into a childcare center. The proposal is based on the addition of a new body that is suspended over the existing structure, extending the building and configuring a new facade, as well as a new communications and service core.
With an adaptable and typographic envelope, the project for Save the Children, built in Madrid's Vallecas district, involves refurbishing and extending an existing structure to convert it into a childcare center.  
The original building, raised during the 1950s, had to adapt to current regulations in order to guarantee the technical and functional performance of the main spaces. Part of the rear building was demolished to integrate a new core, and the top floor was extended, using up the allowed building area with a two-level space, placed between two terraces to favor cross-ventilation. The facade onto Puerto Rubio square was refurbished using a system of eaves, canopies, and flower pots suspended from the top floor. This solves the problem of the (non-existent) heat insulation and the regulation of the solar radiation, while at the same time configuring the new image of the Foundation on the square.
The building is equipped with certain elements to allow interaction and appropriation of the spaces by the users as well as an emotional attachment to the new headquarters. Some of these approaches are transferred to the architectural support with a series of spatial, material, chromatic, furniture, and design actuations, such as flexible mechanisms (moving panels in the classrooms or portable furniture in the library) that favor a collaborative arrangement of spaces. In the same way, the choice of materials and finishes as well as the chromatic palettes of the interiors aim to create an attractive and stimulating atmosphere. During the bidding process, children of different ages wrote a 'wish list' to show how they imagined the new space. Some of their requests, such as 'being able to see the stars from the rooms,' have been converted into architectural elements like the skylight on the roof of the screening room.
The top volume added creates a new facade and communications core. The program inside the new building is organized in flexible rooms with finishes that define a rich and stimulating atmosphere. 
A series of basic bioclimatic measures – passive and active, like the plants in the terraces or the underfloor heating – ensure comfort and reduce maintenance costs. Thanks to all these elements, the building has the best possible energy certification. A number of building protocols foresee the possibility of introducing complementary elements and adjusting the initial features as the needs of the NGO evolve.
The building obtained the highest energy certification thanks to  the combination of passive and active bioclimatic design strategies that guarantee comfort and minimize maintenance costs. 
Cliente Client
Fundación Save The Children
Arquitectos Architects
elii - Uriel Fogué, Eva Gil, Carlos Palacios
Colaboradores Collaborators
elii - Ana López (responsable de proyecto team leader); elii - Eduardo Castillo, María Rodríguez, Irene de Santos, Ana Castaño (equipo de concurso competition team); Eduardo Castillo, María Rodríguez, Irene de Santos, Carlos Moles, Paula Rodríguez, Lucía Fernández (equipo de proyecto de ejecución execution project team); Dirtec - Javier González & Javier Mach (arquitectos técnicos quantity surveyors); Ana López, Lucía Fernández, Eduardo Castillo, Laura Barros, Telmo Sagartzazu (modelos models)
Consultores Consultants
Mecanismo (estructuras structures); Úrculo Ingenieros (instalaciones mechanical engineering)
Contratista Contractor
Diadec; Cushman & Wakefield - Iván Martín (project manager)
Superficie construida Floor area
483,48 m²
Fotos Photos
ImagenSubliminal
Miguel de Guzmán + Rocío Romero