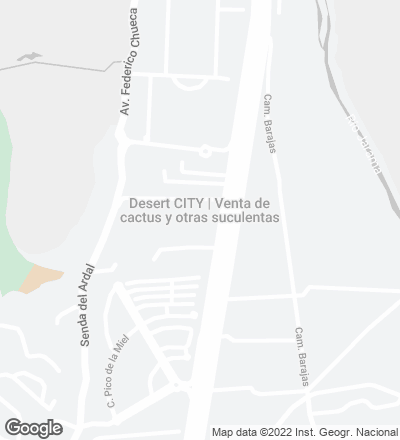 Desert City is a multifunctional complex devoted to xerophyte plants and the production of a whole culture of interests around this species. It is a sustainable and ecological center, where different activities going from exhibition, breeding, and sale of cacti are combined, as well as workshops, restaurant, and exhibitions, with a key section devoted to research and development in collaboration with international universities. 

The site is in a transition area, between the A-1 highway and the Upper Manzanares Basin Regional Park. Its location on this border, isolated but connected to both realities, suggests using the metaphor of the oasis, logical element of reference in a cacti breeding complex. This metaphor leads to organizing the building introvertedly, with spaces arranged around the open interiors of the garden, surrounded by the structure that protects it, and by the nursery, also sheltered. Desert City is thus understood as a double oasis: one that opens to the outdoors with the large garden-nursery, and another materialized in the covered greenhouse. Originally the site was a piece of open land with rubble from the many highway expansions, leaving a paradoxical landscape that is at once natural and artificial; exotic and atavistic.
The different programs are unified in a light construction that responds, in terms of scale and materiality, to the nearby presence of the A-1: a large elongated piece, parallel to the road, organized internally by the symmetry between garden and greenhouse. The greenhouse is protected by a light roof formed by a structure of tensegrity-type traction-tensioned cables, wrapped in an air cushion with a double ETFE layer that buffers temperature variations.
The complex consists of a 5,000 square meter garden and a large biotechnological nursery specializing in xerophyte plants, with a progam that includes research, labs, workshops, terraces, and viewing platforms. 
 
If from the typological point of the view the project resorts to a series of organizational constants – courtyard, cloister, bridge, isotropic space, or 'floating' block –, the formal grammar is organized from the modulation and systematization of an exposed metal structure and an industrialized construction, wrapped in colored, serrated glass with solar shading, to which the phenomenological interaction with the environment is entrusted. These typological and constructive resources come into play through the general filter of energy and environmental criteria, so that the whole complex functions by coordinating active and passive elements, such as double facades, courtyards, cross ventilation, geothermal energy, solar protection, etc., which become evident in use and not in form.

From the environmental and energetic point of view the complex combines active and passive systems: double facades, courtyards, cross ventilation, geothermics, and water recovery systems.  
Cliente Client
Desert City, S.L.
Arquitectos Architects
Garciagerman Arquitectos. Jacobo García-Germán
Colaboradores Collaborators
Miguel López, Raquel Díaz de la Campa, Marta García, Laura Carrero, Martha Sosa Dias, Lidia de Lucas, Marta Roldán, Andrea Gutiérrez, Victoria Alvarez, Margot Roset, Paula Lizcano, Alba Gil, Celia Sánchez
Consultores Consultants
Mario García (arquitecto técnico quantity surveyor), Antonio Usero (gestión y estrategia management and strategy), Tino de la Carrera/White Rock (diseño gráfico graphic design), Úrculo Ingenieros (instalaciones mechanical engineering), Felipe Fernández-ConsultE (estructuras structure), Arenas Ingenieros (estructura invernadero greenhouse structure), Lastra & Zorrilla (ETFE ETFE), Patricia Gammichia (paisajismo landscape), Ángel Sampedro (movilidad mobility project), Alberto Charlez (jefe de obra site manager)
Contratista Contractor
Isolux Corsán; 109 FabLab (fabricación digital mobiliario furniture digital production)
Fotos Photos
Miguel de Guzmán / Imagen Subliminal