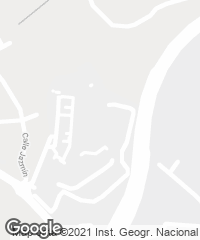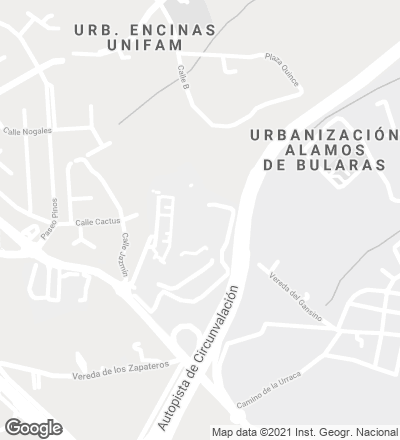 The new construction, containing a sports pavilion and a classroom building, is located in the campus of the Francisco de Vitoria University, in the city of Pozuelo de Alarcón, some 20 kilometers west of Madrid. The facility includes sports courts and fields, multipurpose halls, gymnasium, swimming pool, physical therapy, etcetera. The space of the sports hall can also function as a large multipurpose and meeting space for other university activities.

The building is made up of two rigorous boxes: the largest one contains the sports courts and stands connecting the street level with the walkable roof of the plinth; the smaller  one houses classrooms and study areas. 
The project design proposes a simple building that volumetrically adapts to the general planning of the university campus in terms of height and alignments. The building consists of two clear-cut and well-defined boxes, connected by a single-story low-rise volume, the roof of which is an outdoor communal courtyard. A clear differentiation is proposed, in terms of facade volumes and materials, between the sports and the academic facilities. In this way, the main volume is a large translucid box, filtered and controlled, measuring 60x50x12 meters, which can establish a spatial relationship with the central plaza of the university campus. 
Eight trusses measuring 24 meters span the new sports hall; conceived as a lightweight piece filled with large, bright spaces, the light quality of this volume contrasts with the massive character of the classroom building. 
The sports hall is designed as a lightweight piece, with a translucid glass enclosure and light GRC panels, in contrast to the more enclosed pieces of the classroom building and low-rise volume. In the sports hall the facade orientations are assessed and differentiated, so the facades of the south dihedron, more exposed to sunlight, are clad with light prefabricated GRC panels, while those of the north dihedron are wrapped with translucid glass. Along the southwest facade a clear glass band emphasizes the relationship of the building with the central plaza of the campus. This same mechanism of transparency is repeated on the northeast facade onto the upper courtyard. The objective is to establish a visual relationship between the plaza and the sports court, so that the southwest facade of the classroom building becomes the backdrop of the whole complex.

The translucid glass surfaces on the north-facing sides bring abundant natural light, filtered and subtle, into the hall; the brightness  is emphasized by the white color covering  the whole space. 
The structure of the pavilion is built with steel: a grid of pillars and beams on the facades, and trusses to clear the large spans of the roof. All this is painted white. The rest of the structure is constructed using reinforced concrete, with the singularity of the deep beams over the swimming pool space in the basement. The final result is a simple and luminous building, sober and formally contained. 
Cliente Client
Universidad Francisco de Vitoria
Arquitecto Architect
Alberto Campo Baeza
Colaboradores Collaborators
Ignacio Aguirre López, Alejandro Cervilla García, María Pérez de Camino Díez, Tommaso Campiotti, Miguel Ciria Hernández, Elena Jiménez Sánchez, Imanol Iparraguirre, María Moura (arquitectos architects)
Consultores Consultants
Andrés Rubio Morán (estructura structure); Úrculo Ingenieros (instalaciones mechanical engineering); Francisco Melchor Gallego (aparejador quantity surveyor); José Pablo Calvo (fachada vidrio glass consultant); Francisco Navarro, María Lamela, Francisco Armesto (project manager)
Contratista Contractor
Clásica Urbana (Jesús Díaz Poblaciones, Francisco Martínez Reche, Jorge Garriga, Mónica Grau)
Superficie construida Floor area
9.000 m²
Fotos Photos
Javier Callejas