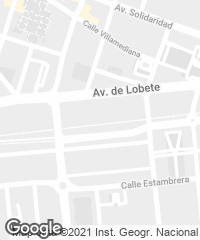 The competition for the construction of Logroño's new Transportation Hub was called in 2006, a scheme comprised within a larger urban plan to bury the railway tracks as they go through the capital of La Rioja, and that also includes the construction of a large urban park and five apartment towers.
Train stations built at street level often involve an abrupt interruption of urban connectivity, and that same infrastructure that was meant to link the city with the territory ends up leaving a void that generates both physical and social segregation. The project to bury the railway tracks and to recover the free-flowing character of the urban pattern also encouraged to rethink the train station as building type from a different perspective. In this case it meant paying special attention to public spaces by developing green belts and by promoting alternative mobility means for pedestrians and bicycles. The new Transportation Hub of Logroño is set forth as a totalizing topography – and, in this sense, it becomes a pioneering experience in the fields of 'landform architecture' or 'ecological urbanism'–, dealing with a broad range of aspects: infrastructure and urbanism, landscape and architecture, ecology and economy.
The building stems from the initial idea of gathering the high-speed train station and the bus station in one single formal gesture, bringing them together in one volume with a green roof, becoming above grade a large green belt that takes up the space where once the train tracks split the city in two. With an organic appearance, but a tectonic core, this volume harbors the complex program in spaces configured from tetrahedral forms, and organized around a central dome in two hypostyle aisles that further extend the public dimension of the park.
The faceted ceilings of the interior spaces reflect the topography of the roof. Both surfaces are the top and underside of a folded surface: while on the outside it is a small hillock-viewing platform that offers views of the city, indoors it evokes a cave-like space, and the contrast between both extremes generates a dialectic that can be readily inscribed within the picturesque tradition. The platforms are bathed in daylight thanks to twelve colossal skylights lined with mirrored stainless steel, creating a rich variety of caleidoscopic effects.
Burying the platforms allows to make the most  of a vast urban space  that can help recover  the spatial, ecological  and landscape value of those sections of the city that were disrupted by  the train tracks. 
Like a sort of artificial hill, the station is covered by a large landscaped park with paths and triangulated parterres; a breakout space that fosters interaction among neighbors and offers views of the city. 
The roof structure is determined by the need to span the railway tunnel and to maintain a regular interval of three meters between the metallic support belts of the mixed concrete-sheet slab that configures the slope.
Cliente Client
LIF 2002, S.A. / Adif
Arquitectos Architects
Ábalos + Sentkiewicz arquitectos / Iñaki Ábalos, Alfonso Miguel, Renata Sentkiewicz
Colaboradores Collaborators
J. Álvares-Builla, Y. Brito, A. Forest,
V. Garzón, P. De la Hoz, I. Martín, L. Torres, R. Rieiro, J. Rodríguez. UTE Ineco-Sener (dirección de proyecto project management); INECO / Eduardo Muñoz; TYPSA / Ricardo Castejón (dirección de obra site supervision)
Consultores Consultants
Iñaki Ábalos (asesoría arquitectónica de dirección managing architectural consultancy); UTE Ineco-Sener (estructuras e instalaciones structures and mechanical engineering); Arquitectura Agronomía / Teresa Galí-Izard; Ábalos + Sentkiewicz / Iñaki Ábalos y Renata Sentkiewicz (paisajismo landscape); Neograma / Luis Cabrejas (infografías infographics)
Contratista Contractor
Sacyr, Aluminios Cortizo
Superficie construida Floor area
Estación trenes train station: 8.000 m²; andenes platforms: 19.000 m²; aparcamiento parking: 18.000 m²; estación de autobuses bus station: 10.800 m²
Presupuesto Budget
108.000.000 euros (soterramiento y estación tren underground platforms and train station); 20.000.000 euros (estación autobús bus station)
Fotos Photos
José Hevia, Sacyr/Tafir