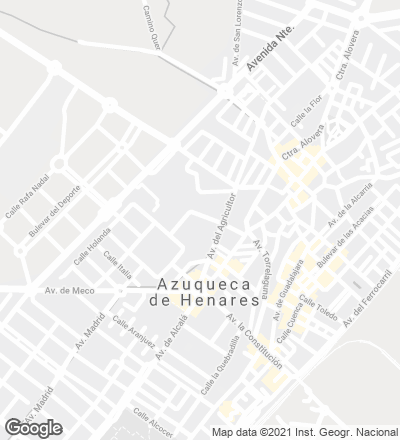 The leisure Center for the Elderly in Azuqueca de Henares (Guadalajara), consists of a series of halls that are linked to one another. With this organization, the Center is set forth as a contemporary variation of the traditional casinos, whose rooms were laid out with a certain disorder under the mottoes of leisure, reading, play, conversation and dance.
The building consists of a low-rise pavilion, facing south, which functions as scenographic backdrop of a plot for public facilities and park across from the Town Hall, and a vertical volume containing the center's offices, storage spaces and other facilities, emerging from the plinth to become an urban landmark, and that includes a visual intervention by artist Tim Berresheim.
The space layout, the building systems, the services, ventilation, exterior protections and landscape design have been studied to create a specific atmospheric effect and to materialize a building that produces no harmful gas emissions, based on a typology of chained spaces and alternating courtyards that is a typical type in the Castilian plateau, as well as on the use of landscaped roofs and geothermal energy as main source. 
Cliente Client
Ayuntamiento de Azuqueca de Henares, Comunidad de Castilla-La Mancha
Arquitectos Architects
Ábalos + Sentkiewicz arquitectos
Colaboradores Collaborators
Iñaki Ábalos, Renata Sentkiewicz (directores del proyecto project directors); Luis Alfaro, Andrés Besomi, Margaux Eyssette, Nissim Haguenaer, Pablo de la Hoz, Margarita Martínez, Alejandro Valdivieso, Victor Garzón
Consultores Consultants
Eduardo Barrón (estructura structure); CENER/Florencio Manteca (energía y sostenibilidad energy and sustainability); Manproject/Rogelio Moya (instalaciones mechanical engineering); Ramón Paradinas (arquitecto técnico quantity surveyor); Iñaki Ábalos, Renata Sentkiewicz (paisajismo landscape); Margaux Eyssette, Alejandro Valdivieso (maqueta model); Tim Berresheim (intervención artística artistic intervention)
Contratista Contractor
BM3; Acieroid (forjados slabs)
Superficie construida Floor area
1.880 m²
Presupuesto Budget
2.805.782 euros
Fotos Photos
José Hevia