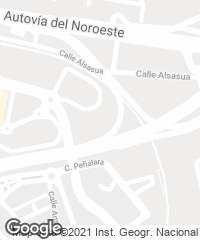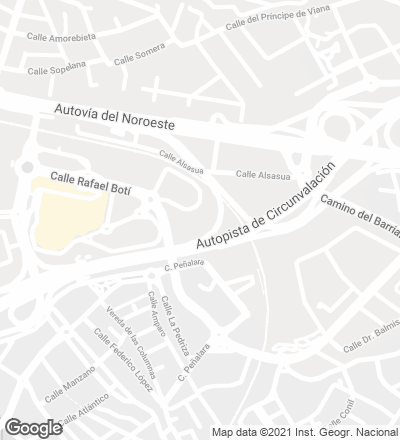 This office building goes up by the intersection between two Madrid highways, the M-40 and the A-6, with a small park at its feet and views of the city to the south and of the mountains to the north. The guiding concept is to create a stimulating workspace without the modular and material conventions of office buildings, favoring an interior landscape that interacts with the different scales of the exterior landscape: the highways, whose trace it imitates and follows; the faraway views, towards which the volumes are oriented; and finally, the public park and private garden through which it ineracts with the shadows of the trees and the reflections of the water. The building manages to assert its presence precisely because it relies on architecture's own resources – geometry, scale and proportion –, reducing the limit of the construction elements used. The acoustic and atmospheric pollution determine the hermetic triple-glass enclosure with nighttime air renewal via mechanical means, a solution that, thanks to its high thermal insulation, permits large glass walls that establish a panoramic relationship with the natural and artificial environment of Madrid.

Cliente Client
Singlehome, S.A.
Arquitectos Architects
Ábalos + Sentkiewicz arquitectos
Colaboradores Collaborators
Iñaki Ábalos, Renata Sentkiewicz, Alfonso Miguel (directores del proyecto project directors); Jorge Álvarez-Builla, Eva Gil, David Huang
Consultores Consultants
Eduardo Barrón (estructura structure); AIGUASOL (energía y sostenibilidad energy and sustainability); Ineco 98/Raquel Laplana (instalaciones mechanical engineering); Ignacio Blázquez (arquitecto técnico quantity surveyor); Juan Von Knobloch (paisajismo landscape); B&V Interiores/Ángel Verdú (interiorismo interior design); David Huang (infografías infographics)
Contratista Contractor
Singlehome, S.A.
Superficie construida Floor area
4.865 m² (2.365 m² oficinas offices; 2.500 m² aparcamiento parking)
Presupuesto Budget
2.500.000 euros
Fotos Photos
José Hevia