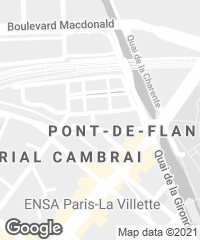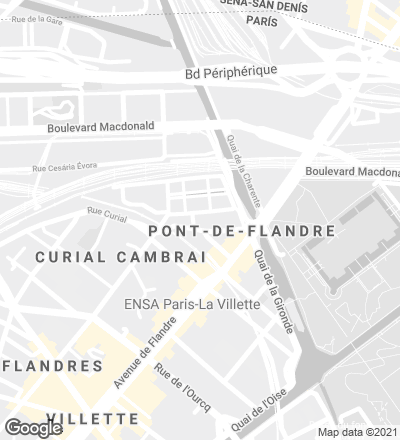 Less than a hundred meters from the park of La Villette, the Compagnie des Entrepôts et Magasins Généraux of Paris owns a terrain of 5 hectares known as the Espace Pont de Flandre which houses a whole series of industrial constructions raised during the second half of the 19th century. To revaluate the area and make the most of this singular site, the company has decided to renovate the existing warehouses and complete the complex with new buildings to house offices and services. The railway tracks to the north and important roads in the remaining perimeter give the development area clear boundaries underscored by clusters of trees, defining an image of its own.
Following the guidelines established by the existing warehouses, the new building is distributed in five parallel bands in an east-west direction over an underground parking lot of two levels. To connect the two halves into which the program is divided, a square opens in the center of the plot divided transversally by the axis defined by the dock between the warehouses and the pond by the main entrance to the new offices. The central public space – onto which the cafeteria and the busiest areas look – is visually defined as a sequence of pointed side walls that result from showing the shorter sides of these gable roof volumes, that are joined two by two around a core of elevators, staircases and bathrooms. A glazed vertical crack reveals on the facade the presence of this core around which the floor plan of each one of the three buildings becomes wider. The position of the staircase perpendicular to the facade together with the generous height of the floors allows to install mezzanines when required.
A skin of steel frames, terracotta slats and glass panels defines the elementary volume of the new offices, ensuring visual continuity between the new buildings and the existing ones, without giving up a contemporary image. However, these clay elements were chosen not only to guarantee visual continuity; they were also used on the longitudinal walls to improve the building's acoustic behavior and so reduce the noise coming from the railway traffic and to cut down on energy consumption both in summer and in winter.
A sequence of metallic frames supports the ceramic slats, using modules measuring 1,35 meters which facilitate the rational division of the interior offices into open bays which are only interrupted by the central row of columns...[+]
Cliente Client
Compagnie des Entrepôts et Magasins Généraux de Paris
Arquitectos Architects
Phillippe Chaix, Jean-Paul Morel, Denis Germond, Walter Grasmug
Colaboradores Collaborators
A. Capurro, C. Djuric, G. Galindo, K. Jensen E. Laurent, R. Lichnerowicz, S. Monfort, D. Nourlsson, S. Poussange, M. Tardio
Consultores Consultants
Ingerop (ingeniería engineering); Agence Française du Paisage (paisajismo landscape)
Contratista Contractor
Léon Grosse (obra gruesa rough work); Eurofaçades (fachada cerámica terracotta facade)
Fotos Photos
Christian Richters