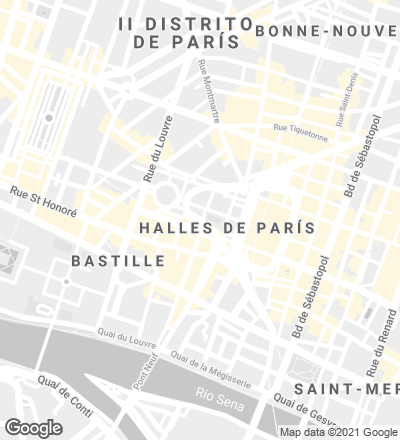 First it was a market; the it was station and cultural center; now, it is a station, cultural center, and shopping center. The case of Les Halles in Paris is that of a fast-changing palimpsest, and what is interesting is that the building just completed in Paris – following scheme selected in the competition called in 2007 (see AV Proyectos 21) – rescues the tectonic condition of the original market built by Baltard: that of a pure structure, a "simple umbrella," as he was asked by Baron Haussmann to build it.
Its given name, 'Canopée' (canopy), defines the building's character well. It is in fact a large metallic roof 500 meters in length. The gently undulating cover rises to meet the height (24 meters) of the neighboring blocks, stretching between two side wings to generate a large interior space that opens up to the busy Place du Châtelet.
The structure of the roof consists of a dense frame of slightly curving steel beams that, in order to span the area of the interior plaza, must rest on a very deep latticework which cuts through the central axis of the building. Consisting of screwed bars with a gleaming golden lacquer, the beams resemble bones, and form a skeleton with a skin of 18,000 glass shingles that brings plenty of natural light inside and controls temperature 
Obra Work
Reordenación del entorno de Les Halles, París (Francia) La Canopée de Les Halles, Paris (France).
Cliente Client
Ville de Paris.
Arquitectos Architects
Jacques Anziutti, Patrick Berger (socios partners); V. Grage, C. Teuschl, K. Jannot, A.Lebret (equipo de proyecto project team).
Colaboradores Collaborators
G. Sellier, O. Musset.
Fachada Facade engineerin
Arcora, Emmer Pfenninger.
Estructuras Structural engineering
Ingérop conseil, Ingéniérie Bâtiments Sud-Ouest.
Iluminación Lightning
Ingélux.
Acústica Acoustics
Acv.
Vidrio Glass master
Emmanuel Barrois.
Seguridad Security
Vulcanéo.
Escenografía Scenography
Changement à vue.
Fotos Photos
Sergio Grazia.