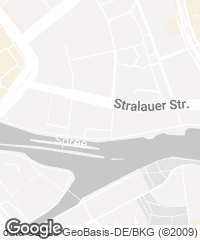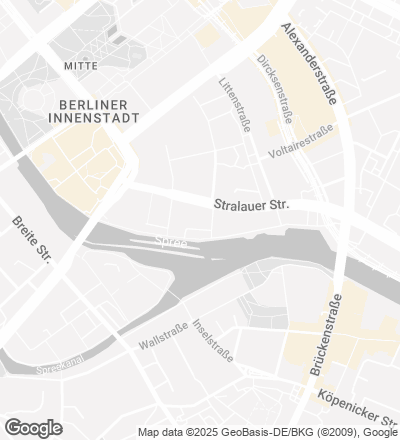 After the Fall of the Berlin Wall, planning guidelines for the reconstruction of Berlin demanded that new buildings reflect the local 19th century architectural style. Located in Mitte, in the old East section and by the Spree, the project proposes a flexible, more open and transparent interpretation of this precept.
Slightly set back to line up with a row of acacia trees, a monolithic and freestanding volume, of 27 x 27 meters, is wrapped up by an L-shape volume, creating an open space and strictly fulfilling the block's perimeter. The cube, made of glass, and its wings, with a metallic latticework, rise over a platform that serves as parking area and links up with pedestrian bridges at different heights. The space between both, taken up by an access for vehicles at ground level, marks the start of the itinerary through the building, which zig-zags up through the eight stories, offering views of the city and occasionally escaping the constraints of the container: in the conference hall, with a five-meter cantilever, and in the glazed corridor overlooking Klosterstrasse. The whole program of the building, from the lobby to the terrace, is subordinated to the promenade, turning served spaces into serving ones and viceversa.
Cliente Client
Netherlands Ministry of Foreign Affairs, Dienst Gebouwen Buitenland, The Hague
Arquitectos Architects
Partners-in-charge: Rem Koolhaas, Ellen van Loon. Project Director: Erik Schotte. Project Architect: Michelle Howard, Gro Bonesmo.
Equipo Team
Beth Margulis, Anu Leinonen, Daan Ooievaar, Adrianne Fisher, Robert Choeff, Christian Muller, Oliver Schütte, Fernando Romero Havaux, Matthias Hollwich, Katrin Thorhauer, Barbara Wolff, Bruce Fisher, Anne Filson, Udo Garritzman, Jenny Jones, Shadi Rahbaran, Mette Bos, Adam Kurdahl, Stan Aarts, Julien Desmedt, Annick Hess, Rombout Loman, Antti Lassila, Thomas Kolbasenko, Moritz von Voss, Paolo Costa, Carolus Traenkner, Susanne Manthey, Christiane Sauer, Tammo Prinz, Nils Lindhorst, Felix Thoma
Colaboradores Collaborators
Research: Bill Price, Marc Guinand. Structure: Royal Haskoning / Arup Berlin. Services: Huygen Elwako / Arup Berlin. Project Management: Royal Haskoning. Fire safety: Hosser Hass + Partner. Lighting: OVI. Curtains: Petra Blaisse, Inside Outside
Programa Program
8,500 m²: offices 4,800 m²; housing 1,500 m²; parking 2,200 m²
Fotos Photos
NEB/Christian Richters; Iwan Baan; NEB/Phil Meech; Rick Janack