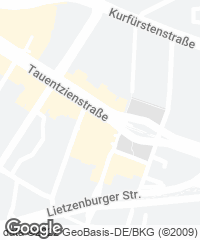 Berlin's historic Kaufhaus des Westens (KaDeWe) department store has opened phase 1 of its OMA-designed renovation. A concentric void that spans six floors features a battery of wood-clad escalators. At the base, a large retail space also serves as a venue for events. On the outside, at the corner of Tauentzienstrasse and Passauer Strasse, is a new double-height shop window.
The Dutch firm OMA is doing the revamp and enlargement of the iconic 1907 store. In the wake of World War II the building becamse a symbol of Germany's reconstruction and economic rebirth. Over the decades it has been refurbished and expanded several times. The new concept divides the existing single space into four interconnected areas, each with an entrance of its own and organized around a central void filled with a sculptural web of escalators. The objective is to redefine the KaDeWe's sales strategy by offering four different shopping experiences, adapting to the diversity of shoppers and to shifts in consumer behavior. On the other hand, the building will be taller, with a compact volume of glass added on top that will give spectacular views over the German capital.
The masterplan and the renovation of the KaDeWe department store in Berlin, under way since 2016, are under the direction of Ellen van Loon and Rem Koolhaas. Van Loon has also designed the KaDeWe Group's new store in Vienna.