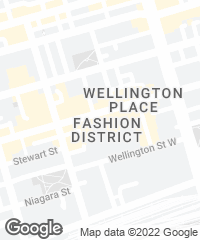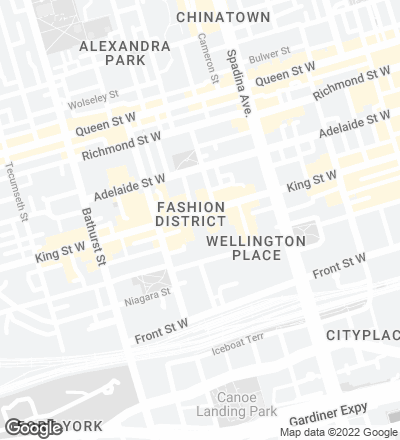 Located in a transitional area between the Central Business District of skyscrapers to the east and the low-rise residential neighborhoods in the northwest, King Toronto is a mixed-use building surrounding a plaza which seeks to become a new public point of reference in the city.
The project presents an orthogonal mesh – each module has the size of a room – progressively transformed by different operations. This mesh rotates 45º from the street grid to improve exposure to light and air, then is extruded upwards to form a compact volume. The upper part of the block takes on a profile of peaks and valleys to let sunlight penetrate the entire building, while at the base, pixels lift to provide 24/7 access across the block, through open pathways.
The central plaza, divided into a hardscaped courtyard and a lush garden, is meant to provide both a gathering space and peaceful place sheltered from busy city life. The residential program sits on a plinth of retail spaces and boutique offices that rises only as high as the historical buildings on the site, which are made part of the complex, preserving their facades and the levels of the original slabs.
Cliente Client
Westbank Projects Corp.
Arquitectos Architects
BIG-Bjarke Ingels Group.
Socios responsables Partners in charge
Bjarke Ingels, Thomas Christoffersen
Gerente de proyecto Project manager
Ryan Harvey
Diseño de proyecto Project designer
Lorenz Krisai
Arquitecto responsable Project architect
Andrea Zalewski
Equipo de proyecto Project team
Aaron Mark, Agla Sigridur Egilsdottir, Agustin Perez-Torres, Alan Tansey, Alvaro Velosa, Amina Blacksher, Andrea Zalewski, Andreas Buettner, Ava Kim, Beat Schenk, Benjamin Caldwell, Breno Felisbino da Silveira, Brian Rome, Bryan Maddock, Casimir Esbach, Chengjie Li, Christopher David White, Christopher Tron, Corliss Ng, Cristian Lera, Cristina Medina-Gonzalez, Daniel Jackson Kidd, Deborah Campbell, Douglass Alligood, Edda Steingrimsdottir, Elnaz Rafati, Evan Saarinen, Fabian Lorenz, Florencia Kratsman, Francesca Portesine, Giulia Chagas, Guillaume Evain, Ian Gu, Iannis Kandyliaris, Iris Van der Heide, James Babin, Jan Leenknegt, Janie Green, Jenna Dezinski, Jin Park, John Hilmes, Joseph Kuhn, Joshua Burns, Josiah Poland, Joyce Zhou, Juan David Ramirez, Julian Andres Ocampo Salazar, Karolina Bourou, Kayeon Lee, Ku Hun Chung, Lorenz Krisai, Lu Liu, Lucio Santos, Luke Lu, Manon Otto, Margaret Tyrpa, Mateusz Wieckowski-Gawron, Megan Ng, Norain Chang, Oliver Thomas, Omer Hadar, Ovidiu Munteanu, Pabi Lee, Phawin Siripong, Rita Sio, Ryan Harvey, Samantha Okolita, Shu Zhao, Simon Scheller, Siva Sepehry Nejad, Terrence Chew, Thomas Christoffersen, Thomas Smith, Tiago Sa, Yuanxun Xia
Equipo de proyecto (concepto) Project team (concept)
Daniel Kidd, Tiago Sá, Alvaro Velosa, Brian Rome, Chris Tron, Christian Lera, Ibrahim Salman, John Hilmes, Jakob Lange, Terrence Chew, Tore Banke
Colaboradores Collaborators
Diamond Schmitt Architects, BA Group, BIG IDEAS, ERA Architects, Gladki Planning Consultants, Greenberg Consultants, Gunn, Reinbold Engineering, LMDG, MGM Group, Nemetz & Associates, Public Work, Read Jones Christoffersen Ltd.