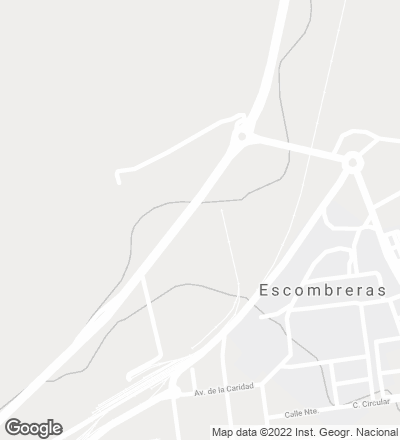 The new industrial processes, more concerned with the environment and less dependent on large machinery, are leading to a substantial transformation of the buildings in which they are installed. Far away from the great structural displays to which the 19th century industrial construction seemed to be doomed, the production centers of the new millennium are an exercise in formal and technical refrain; abstract containers in which technological protagonism falls on the machinery itself and not on the building that houses it. The new headquarters for an ecological fuel factory in Escombreras are an example of how the industry is capable of merging with the contradictory landscape of terraced orchards and industrial developments.
Behind a stone wall as those that fence in the neighboring vegetable gardens, the office building lies between the highway and a fuel factory, defining the image of an industry which is more concerned about the environment.
Surrounded by hills of reddish rock, the Escombreras valley is a tapestry of crops in which progress has scattered the landscape with hydraulic constructions and holes of pollution. Aiming at redirecting this situation, the new factory recovers a lemon orchard fenced in by two dry riverbeds, in order to present an environmentally friendly industry. The building is grouped in a linear volume that, as a thick wall, takes on the double role of vegetation backdrop and boundary between the road and the factory. In this prism that wishes to become a fragment of fence, the clearance and weighing control void separates the staff building from that devoted to administration and customer service. Hence, the building appears divided in two prisms organized in a 5 meter x 15 meter grid that makes possible a flexible distribution of the workstations. The open-plan interior receives light through deep courtyards inscribed within the structural grid, which at the same time favor the distribution in sections. An atrium – invisible from the exterior –takes up the full width of the main volume to frame the public access, which is protected from the sun by a pergola.
The building displays its structural grid and faces the road with a masonry wall made of stone from a nearby quarry, whose color is similar to that of the fences enclosing the agricultural properties of the area. The wall's thickness improves the acoustic and climatic behavior of the interior. The opposite facade – open onto the lemon orchard that connects the sheds and the offices – is protected from harsh southern light by means of horizontal concrete slats, emphasizing the stony appearance of a factory that seems to emerge from the riverbed's boulders.
The office building detaches itself from the stone wall through several types of courtyards; the one on the north end is dominated by a pond and the access one is topped by a concrete pergola.
Cliente Client
Abener, Abengoa
Arquitectos Architects
Rafael Casado, Antonio J. Herrero, Juan Suárez
Colaboradores Collaborators
Juan Talegón (aparejador quantity surveyor)
Consultores Consultants
Juan Talegón, Rafael González (ingeniería industrial industrial engineering)
Contratista Contractor
San José
Fotos Photos
Fernando Alda