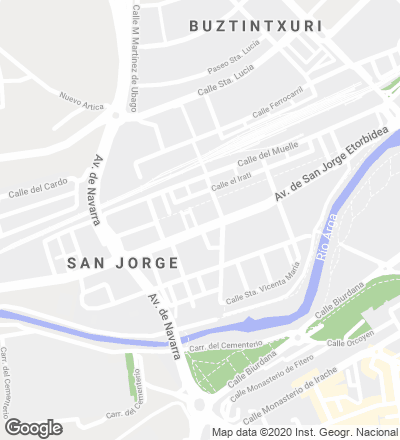 The result of an open competition convened by the Archdiocese in the year 2000, the building is meant to fulfill the aspiration of the Pamplona neighborhood of San Jorge to have a new and updated religious facility, which it had been waiting for for over thirty years. The project brief proposed the construction of a church for 400 people, with a smaller chapel in its interior for reduced gatherings. The parish center was completed with offices, rooms for different purposes, classrooms for religious instruction and, also, two dwellings for priests and a small apartment for visitors. The urban plan foresaw the insertion of the building in an area surrounded by housing blocks of up to eight floors, with two squares on either side of the plot assigned. The relationship of these squares and the connection between them were the point of departure when designing the building. The church rises perpendicular to the main avenue, following the sequence of the adjacent buildings, and adopting a series of guidelines that enable it to seize its site with ease and discretion.
The outer concrete wall gives a unitary image to the three pieces that make up the complex– atrium, temple and parish center –; the atrium connects the two squares located on either side of the building. 
A large atrium performs as an outdoor foyer, establishing a relationship between the two squares whilst proposing a significant urban episode for those who are simply passing by and also a meeting point for churchgoers prior to entering the temple. At the same time, this foyer links the temple with the parish center, containing the priests' dwellings on the top floor. An elevated courtyard covers the full length of the facade, bringing light into the housing spaces and, at the same time, protecting their privacy. Three pieces – atrium, temple and parish center –, blend under one same skin and visual image, transforming the complex into a sort of church-fortress that seeks shelter from the outer world, but that also tries to generate a neutral backdrop in contrast with the surrounding built fabric.
The design of the temple's interior is concise both in terms of form and of material, with interior concrete walls built in the same way as the exterior ones. This constructive unity lets light become the essential element, the one that gives the temple the adequate atmosphere for prayer and worship. At the base of the church an alabaster glass window filters the light that comes in through the atrium. A skylight over the altar illuminates the liturgical elements. A large concrete beam-screen divides the aisle into two spaces; the main one, larger, for Sunday mass, and the smaller one for daily use.
The large atrium that traverses the building performs as an outdoor lobby and as a meeting point; a screen-beam divides the temple into two parts, which permits the daily use of the facility for smaller gatherings. 
Cliente Client
Arzobispado de Pamplona-Tudela
Arquitectos Architects
Tabuenca & Leache Arquitectos: Fernando Tabuenca y Jesús Leache
Colaboradores Collaborators
Alejandro Sánchez (proyecto project), Javier Zalacain (dirección direction); José Luis Sola, Tabuenca & Leache Arquitectos, Paula Martínez (jefe de obra site supervisor); Arturo Pérez Espinosa (aparejadores quantity surveyors)
Consultores Consultants
Susana Iturralde (estructura structure)
GE & Asociados S.L. Ingenieros Consultores
Contratista Contractor
Construcciones VDR
Fotos Photos
José Manuel Cutillas