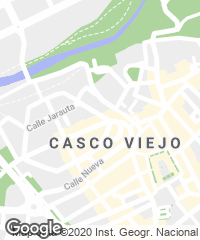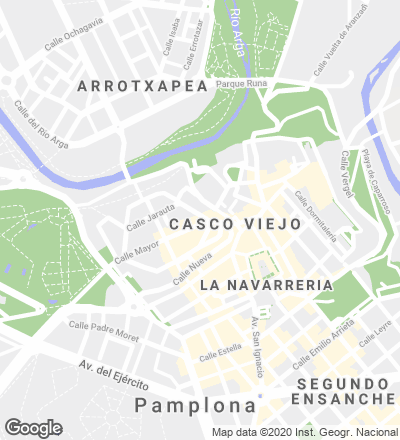 The building, the construction of which began in 1548 per commission of the Constable of the Kingdom of Navarre, belonged to the House of Alba and was the episcopal residence for a time. The owner who bought it at the end of the 19th century undertook refurbishment works to fit out rental dwellings, commercial spaces and workshops, so the original traces were barely recognizable when in the year 2000 the building was purchased by the City Hall, which decided to convert it into the civic center of the historical district. It is now listed as property of cultural interest.
The project chooses to recover as much as possible the character of the Renaissance house-palace, assigning new uses only to the most adequate of the spaces available. Except for some specific cases, like the roofs or the octagonal columns, mimesis has been largely avoided. The materials used serve to establish a connection between past and present, with exposed surfaces made of local stone, fired clay, wood, limestone and plaster. This does not exclude, however, the use of modern building techniques and of other materials, like the concrete of underpinnings and reinforcement walls, the braces and other elements of iron and zinc from the roof finishes.
The central core of the building, which emerges after emptying the two original courtyards, has been built with reinforced concrete, which is equivalent to inserting one building inside another: the internal walls are thus strengthened by this concrete 'jacket' to support the skylight and the new loads; the facade walls are tied to this core through metallic braces concealed in the wooden roofs. To extend the height of the core, the roof rafters can rest directly on it, with one-slope flaps onto the street that round off the geometry of the perimeter tile roof.
To increase their resistance, the depth of the roof beams is increased with one-way laminated wood and pine wood connectors. On the top floor, the main courtyard extends – with wood pillars and beams – the order defined by the stone columns, replaced in their original position. The roof is built with deep laminated wood beams that rest on interior walls, thus preventing excessive load from falling on the stone columns. The large beams delimit the visual height of the gallery, acting as sunshades and supporting the continuous glass surfaces, part of them operable, which give the courytard the brightness of its prior external character.
Cliente Client
Ayuntamiento de Pamplona
Arquitectos Architects
Fernando Tabuenca yJesús Leache
Colaboradores Collaborators
Maite Zabala, Arantxa Villar (proyecto básico project); Belén Beguiristáin, Alejandro Sánchez (proyecto básico y de ejecución project and construction); Belén Beguiristáin (dirección de obra site supervision); Arturo Pérez Espinosa, José Luis Sola Labari (arquitectos técnicos quantity surveyors)
Consultores Consultants
Asunción Orbe, Aurelio García (historiadores historians); Gabinete Trama/Mercedes Unzu (estudios arqueológicos archaeology); Sagarte, S.L./Blanca Sagasti (estudios estratigráficos y restauración stratigraphy and restoration); Mikel Landa (estructuras de madera timber structure); Susana Iturralde, Raúl Escrivá (estructuras de hormigón concrete structure); GE & Asociados, S.L: José Javier González, Angel Gil, Maite Alfonso, Juan Carlos Suárez (instalaciones mechanical enginnering); Oficina de Rehabilitación Urbana: Alberto Calvo, Javier Recalde (supervisión supervision)
Contratista Contractor
U.T.E. Comsa-ACR.Albert Regot (jefe de obra site supervisor); Schüco (lucernario, ventanas motorizadas skylight, motorized windows)
Fotos Photos
Luis Prieto