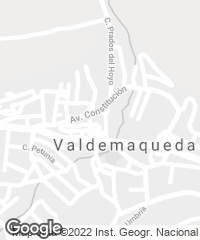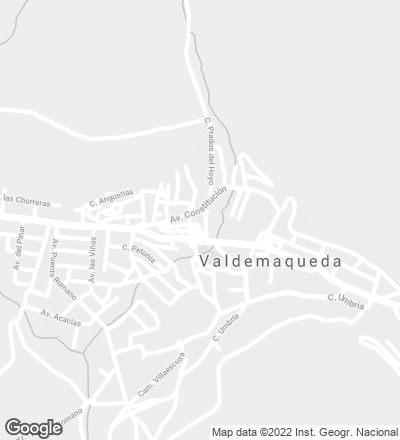 As many other small towns of Spain's geography, Valdemaqueda shows a small and scattered housing whose urban hierarchy can only be intuited through the clear volumes of buildings such as the town hall or the church. In the higher level of town, a large prismatic apse points out the site of the late Gothic temple that ruled over the town until its aisle was destroyed in the forties. The plastered construction that was added to the apse – the only volume that remained standing – has now been removed due to its deterioration. The only preserved elements –a Renaissance door and the apse – have been assembled in the construction of the new temple, the bare walls of which follow the example of the austere pre-Romanesque and Cistercian constructions.
The apse of the preexisting church was extended by a prism topped off at the roof by two linear skylights that asymmetrically illuminate the nave. Its graniteclad walls serve as background of the old door.
A cubic volume houses the new aisle, expanding on the roof with skylights that reflect the different interior stages. The access planned for the south elevation – outside the symmetry axis of the church – has been now proposed as the starting point of a processional route to the altar, following the guidelines of the elements associated to each moment of the liturgy. A holy water basin, chiseled in a block of granite, incorporates the only window with views onto the exterior in the west wall, before the baptismal font facing the entrance. The latter is located beneath the skylight along the north side to bring a tangent light upon the wall in which the confessional is inserted, a volume that juts out from the perimeter as the apse buttresses. A second and higher skylight, which takes up the entire width of the church, projects from the roof at the point of intersection of the apse and the aisle. Its large lintel is perceived as an interior visual diaphragm that plays the same role as the iconostasis of oriental churches. Its transversal band of light precedes the somber area of the existing apse, where the faint sheen of the Renaissance altarpiece can be perceived.

Both the floor's slope and the structural elements support the itinerary's asymmetry. The wood joists that make up the ceiling of the aisle are aligned with the route of access to the temple. The concrete lintel that supports them under the first skylight rests on a pillar next to the baptismal font to intensify this visual focus. As if it were an objet trouvé, the door to the old church is superposed to the cavity brick walls of the enclosure, rounding off a construction in which ornament is replaced by texture.
Cliente Client
Comunidad de Madrid
Arquitecto Architect
José Ignacio Linazasoro
Colaboradores Collaborators
J. M. García, N. Polli, D. Scardua
Contratista Contractor
Comsa
Fotos Photos
Javier Azurmendi