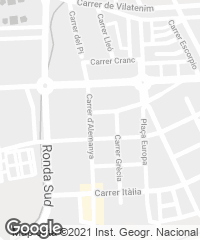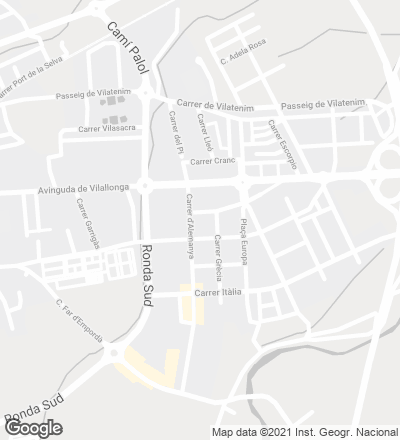 Situated within an industrial precinct on the road from Figueras to Rosas, where an exhibition center will be rising in the future, stands the headquarters of the entity in charge of the provision and maintenance of the city's infrastructures. Urban transport, sewers, water supply, and street lights and signs are coordinated from this complex of warehouses and small factories. The surroundings and the mixed nature of the program, including offices, workshops and garages, prompted the design of a unitary building with a public character incorporated into an industrial building system. An opaque volume takes up the entire parcel and asserts its presence in a heterogeneous fabric.

On the industrial estate between Figueras and Rosas, a unitary envelope encloses a mixed program of offices, workshops and garages, visible as much in the tripartite articulation of the floorplan as the elevation.
The uses are distributed in three blocks distinguishible both on plan and elevation. The more representative aspects of the program occupy the tallest, northwest corner, with the area for receiving the public at ground level, alongside exhibition and lecture rooms, and administrative functions upstairs. The maintenance facilities - workshops, storerooms, dressing rooms - are arranged around a vehicular passageway, and define the central stretch of the cornice-descending facade. The southeast end is rounded off by the low wall that separates the premises from a future bus park. Such functional variety is subjected to the discipline of a regular fragmenting that removes all references to scale. A lone horizontal window breaks the opacity of the garage wall to frame the sculptural lettering of the company name. Pursuing the iconic nature of this label, the building's contour is silhouetted against the sky with the conscious precision of that seeking to be recognized from afar.

The rough texture of the silicate boards of the facade conceals an interior bathed in light.
Materially speaking, the project conceives a double skin to dress the rendering of concrete blocks on both sides of them. Hence the building, seeking a rough hermetic external image, is clad on the outside with silicate-treated prefabricated boards, but surprises the visitor with its pleasant naturally lit interior. The diffuse glare downstairs, regulated by a tall pane of glass near the entrance, contrasts with the vibrant direct shine through slanted openings upstairs. White surfaces alternate with bands of wood, accentuating the singular episodes of the foyer and auditorium, while a terrazzo flooring throughout reminds one of the utilitarian function of the center. Details are reduced to essential in this building which endeavors to present itself as something both owned by and at the service of the city.
Cliente Client
Figueres de Serveis
Arquitectos Architects
Carlos Ferrater & Joan Guibernau
Colaboradores Collaborators
Joan Fernández (aparejador quantity surveyor)
Contratista Contractor
Ancodur
Fotos Photos
Lourdes Jansana