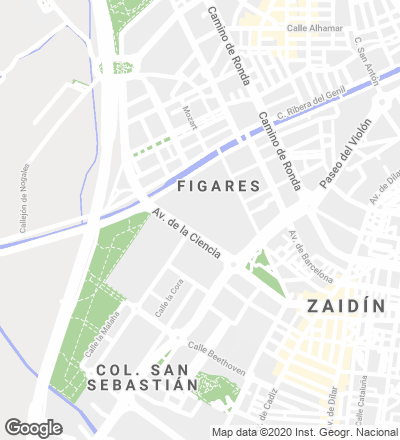 The project for the extension of the Science Park of Granada, a commission assigned after a call for ideas held in the year 2003, conceives the intervention from the outset as an opportunity to address urban distribution issues that go beyond the precinct and which help to shape a larger and more important area of the city.
The relationship between the River Genil as well as the connection with the remanining urban cores determine the dimension of the project, which departs from the idea of a 'totem' building and pays special attention to the existing and to the varied situations generated along the edges. In this way, the spatial continuity and the intensification of the interactive potential between building and city constitute the central themes of the proposal that, configured as an organism similar to a hand – that lets the park and the city occupy the intermediate areas –, accommodates the different spaces underneath a single roof with slight inflections.
The design pays special attention to the points of contact with the existing, thus addressing the area's lack of urban cohesion; the footbridge that crosses the River Genil intends to bring the new park closer to the city fabric.
The footbridge connecting with the opposite bank of the Genil is the arm that brings the city into the park, creating a new pedestrian access that links up with the meeting areas. The project proposes a new way of moving around the park, making it possible to grasp an overall view from an upper level, and even to traverse the lobby through a central skylight, descending later to the access square.
A folded continuous surface hovers ten meters high supported off by the structure of the large main boxes, defining in its interstitial spaces the main lobby, the permanent point of reference of the interior and exterior itineraries, underscored by the low-lying light of the facade openings and stressed in the core of the building by the largeglazed slot that identifies the complex. The idea of interactivity is present on all levels of the building. New urban paths are braided with the interior circulations of the precinct, which in this way shares its public dimension with the city. 
The lobby's role is toguide and orient visitors, taking in circulation flows from the access plaza and from the green area by the river, and establishing an interaction between them and the large open spaces of the interior.
The project provides a continuous series of spaces in which to move freely and with total accessibility, where visitors discover the possible itineraries among multiple options. The idea is to turn the user into the inquisitive subject that takes on an active role in the building. The choice of materials follows technological innovation and energy-efficiency criteria: some stretches of the roof are adapted to collect solar energy; others are material containers of the construction work development or of other industrial means to be classified and processed on site.
Arquitectos Architects
Carlos Ferrater, Eduardo Jiménez, Yolanda Brasa
Consultores Consultants
Juan Calvo, Pondio (estructura structure)
Contratista Contractor
Dragados; Frapont (techos y revestimientos ceilings and sheathing)
Fotos Photos
Alejo Bagué