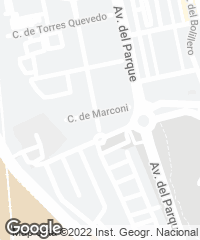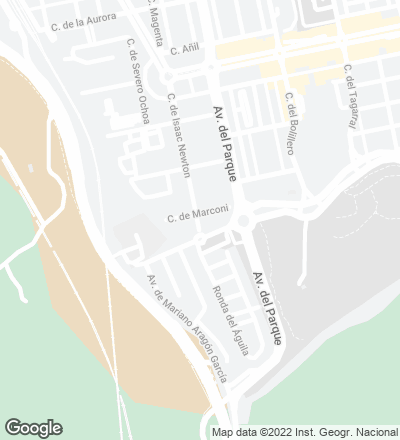 One of the initial criteria in the elaboration of this project for an electric power control unit was that it should be a non-conventional building with an image able to stand out in an area full of singular architectures. Another was that all the functions of the program should fit into three stories: basement, ground floor and upper floor. The basement was to accommodate both the equipment and parking facilities; the ground level was to contain the entrance area and the general computers section and related offices; and the top floor, the control room and all management and technical offices.
With these conditions in mind, the architects arrived at a consistent solution in the form o f a circular building around a square core. This core contains the computer room at ground level and the control room above, in such a way that the rest of the premises surround, protect and serve these spaces.
El núcleo del edificio, que alberga las funciones más puramente técnicas, es un amplio recinto de planta cuadrada en tomo al cual se disponen las dependencias auxiliares, delimitadas por un cerramiento circular.
The way the exterior circle and interior square relate to one another turns the complex into a building of substantial formal interest and counteracts any process of banalization that the use of an elemental geometry such as this might produce. Furthermore, the outer cladding of the circular volume, based on steel plates and large sliding windows, changes according to orientation, whether with large cornices over the openings or using protective glass on the west facade.
The cladding offers a contrast between the rough texture of the steel and the bands of glass. The diverse auxiliary technical elements contained within are projected to the exterior. 
Nor has there been any attempt to avoid the clear exterior projection of necessary technical elements like emergency stairways, chimneys and antennae. In the quest for visual unity, the cornices and consoles likewise come in steel.
The central core rises over the flat roof, and the resulting difference in height allows for the better lighting of the control room, which is organized around a crossed structure of beams supported by pillars.
All the flooring is technical, raised fifty centimeters on the ground story and twenty upstairs, and the suspended ceilings are made of perforated metal plates. The interior walling in the circular volume is through screens, and in the central core through brickwork lined with DM wood up to the lintels. A low furniture element also made of DM wood and containing the fan-coils completes the exterior cladding.
The basement level takes up practically the entire area of the lot, with some landscaping done over part of its roof slab. 
Cliente Client
Red Eléctrica.
Arquitectos Architects
Sebastián Araujo & Jaime Nadal.
Colaboradores Collaborators
C. Amorós, J. Hernández (aparejadores / technical architects).
Contratista Contractor
Entrecanales.
Fotos Photos
Javier Azurmendi.