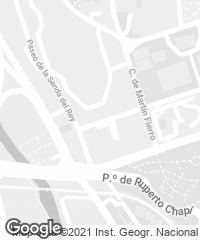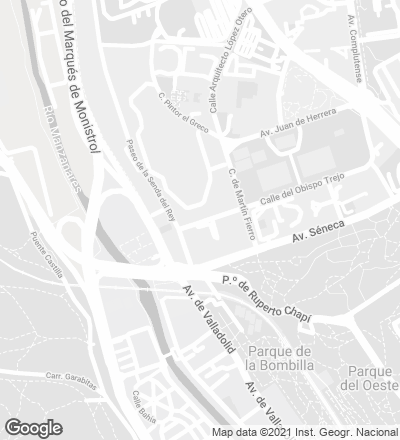 This rock-life center for high-competition athletes rises south of the Complutense University campus, on a prolongation of the artificial topography of its sports fields, and is conceived as a closing for the parcel occupied by the state sports council. Since the brief called for a high-occupation floor plan, it was necessary to reroute the road that runs through the plot. The steep slope of the ground made it possible to bury a part of the building, thus adapting it to the scale of surrounding constructions. Its silent envelope, opens intermittently to let light in, but reveals nothing of the functional complexity of the inside.
Three juxtaposed volumes, each corresponding to a specific part of the brief, form a single clear-cut box that closes the dressing room block. Uses are grouped together in an effort to combine lighting and structural needs. The Olympic-size swimming pool and the boxing ring, for example, are brought together vertically to consolidate the southeast corner of the building. A similar superposition rounds off the opposite end, both pieces serving rhythmic gymnastics in this case. The prism in between contains the pingpong room and further facilities for rhythmic gymnasts.
A single-flight staircase running parallel to the changing rooms gives the densely laid out building a vertebra. An incision in the roof brightens up this spine, which exploits all the scenographic possibilities the crevice offers to help orient the user. If the program is what determines the building's floor plan, its section is characterized by mechanisms of light control. Concrete ribs prevent the rhythmic gymnasts from being blinded by daylight, and the skylights are such that the sun's rays slide toward the walls around the swimming pool. This enhances the cave-like atmosphere which the slope that can be discerned through the large window suggests.
A similar spacial order is established in the different gymnasiums through a sequence of steep paired beams. The restrained nature of the project rests on the choice of materials. Outside, concrete is combined with bands of travertine, with the junctions imposing a rhythm. Stainless steel frames and the teak wood that comes in moderate doses in the details of the interior, further contribute to the expressive sobriety that inspired the earliest decisions. It is with the same intention that the entrance zone is given a travertine treatment. Only the racket caused by the athletes' echoes resounds around the introverted architecture of this disciplined geological prism...[+]