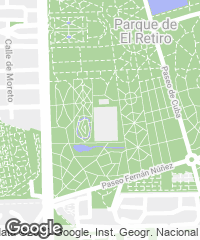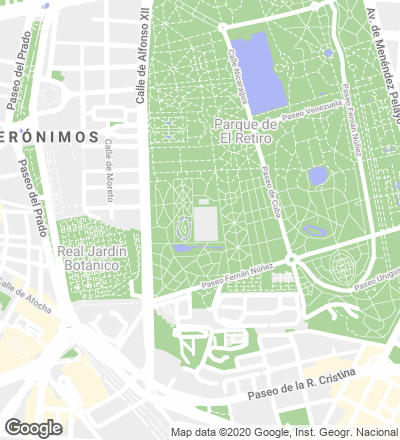 The municipal complex of La Chopera, completed in 1960 on the southwest side of the Retiro park, is one of the oldest sports centers of Madrid. The multiple installations with which it is equipped (football fields, outdoor tracks, basketball and tennis courts, among others), transform the park into a meeting place for neighbors, bringing new life to one of the many areas of activity that now take up an area once used by the royal family as a retreat. Built within the context of a program for the renovation of installations that extends to the whole of Madrid, this project won a competition that was celebrated eight years ago: a sports pavilion which also houses the offices of the district's sports authorities.
Partially buried, the pavilion emerges wrapped up in translucent panels. Metallic frames painted green protect the upper sports court, blending the building with the landscape of the Retiro park. 
The building starts out from a rectangular platform raised three meters above ground level by way of a series of steel structural frames. Its footprint is buried underground in a concrete container of four meters in depth, which allows a double-height gymnasium to take up the western flank; on the other side, with a smaller surface and on the access level are the municipal offices, while the dressing rooms and warehouses take up the lower level. A transversal corridor runs through the prism giving access to the different areas, to once again leave the volume on the opposite flank and lead toward the outdoor tracks. A line of trees in the exterior and a panelling of translucent glass over the concrete container form a sort of double enclosure for the gymnasium. In this way, a white and filtered light illuminates the interior through the upper part of its vertical walls. The roof, that appears to float over this continuous band of light, performs as an open air tennis or gymnastics court. An exterior metallic staircase, attached to the southern side, leads to it.
The excavated volume houses in two levels storage areas, dressing rooms and offices, and the gym at double height. A polycarbonate band illuminates the interior court, which is bathed by a perimetral white light. 
As a reinterpretation of the landscape gardening tradition of the area, evidenced by the singular pieces built with hedges and fences, an enclosure of metallic mesh ensures the protection of the installations. Transformed into vegetal walls now that the diverse species planted ex profeso climb its surface, they give way to an abstract composition in which the metallic frames cut out the organic matter in orthogonal fragments. From a distance one obtains a mosaic effect of the landscape, when the shades of green and gray of the trees and the sky, different depending on the light throughout the day, are mixed with the colors of the pavilion.
Cliente Client
Ayuntamiento de Madrid
Arquitectos Architects
Iñaki Ábalos y Juan Herreros,
Ángel Jaramillo
Colaboradores Collaborators
Renata Sentkiewicz, Fermina Garrido; Jakob Hense (maqueta model); IMD (dirección y control de obra site supervision); José Torras + IMD (aparejador quantity surveyor)
Consultores Consultants
Obiol y Moya (estructura structure)
Contratista Contractor
Maconsa
Fotos Photos
Miguel de Guzmán; Hisao Suzuki