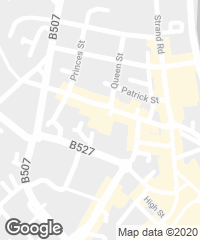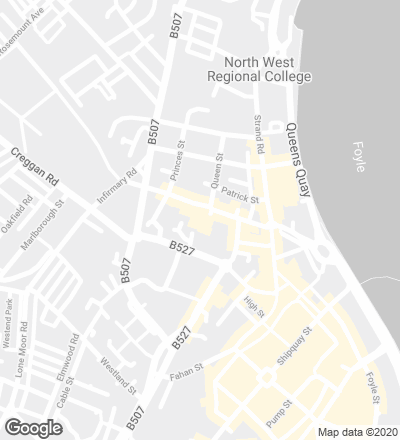 Aiming to preserve and promote Irish language, the center built by the organization An Gaeláras invites citizens to join the community cultural center by channelling pedestrian flow from the city to a large interior atrium. The site, in the historic district of Derry, is situated within a rectangular perimeter with three opaque sides, so light reaches the central space through a large triangular skylight. A continuous terrazzo floor surface connects the public space with the building's interior. In contrast with the perfectly orthogonal exterior geometry, the interior is distributed following oblique links that organize the movement of users as if they were balls in a pinball game. A series of footbridges, platforms, and stairs surround the four-story void around which the program is arranged, and which includes classrooms, offices, a shop, a cafeteria, and a performance space.
The facade composition maintains the vertical proportions of the historic buildings in the surroundings. The concrete formwork is detailed with 17 centimeter-wide timber boards that leave an imprint on the walls, visually extending the horizontal dimensions of traditional brick. 
Obra Work
Irish Language Centre
Cliente Client
Culturlann Ui Chanain
Arquitectos Architects
O'Donnell+Tuomey
Consultores Consultants
Albert Fry Associates (estructura structure); IN2 Engineering (instalaciones M&E engineers)
Contratista Contractor
JPM Contracts Ltd.
Superficie construida Built-up area
2,000 m²
Presupuesto Budget
£2.8 M + VAT
Fotos Photos
Dennis Gilbert/VIEW, Alice Clancy