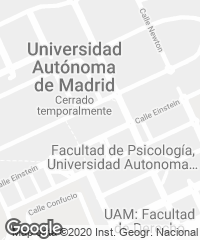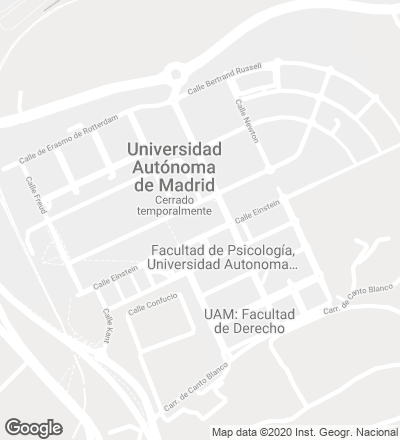 The Universidad Autónoma of Madrid has grown around a central space of encounter and circulation, a green boulevard that has become its backbone. On one of its ends is the commuter train station that connects with the Puerta del Sol, on the other, the Plaza Mayor or main square of the university. This space is the new service core of the university, and as such it must express its symbolic and representative character, providing a point of reference within the campus structure.
This building, which houses the university's administration services, is located in the center of the campus, helping to unify the whole complex and creating flexible meeting spaces for university members. 
How is the plaza built? Only scale, density and fluidity can generate spaces able to accommodate the great variety of uses required. In this way, the objective has been to build an indeterminate space, flexible and able to attract university students, who can attend both programmed and impromptu activities. The scale permits defining a public space, marked by legible edges. Density is used as a tool to trace the edges: the solid spaces build the edges and define the accesses. Lastly, fluidity permits a flexible and free circulation, without a specific point of destination.
The scheme defines an unobstructed space to generate an inviting atmosphere. It combines public and private space, departing from the usual classification and regulation that property and privacy barriers impose on human environments. This translates into a continuity that can be seen on both the lower and the upper level. In the first one, seven access bridges lead to the interior of the square, which is a continuous and unitary surface with the necessary installations for different kinds of events and encounters. Above it the balconies of the upper boulevard are unraveled in two superimposed platforms that configure the square and the arcade. On the top level, the roof is part of the 800 meter long promenade that connects with the train station. It is an edge and a lookout that goes up 12 meters above grade. Geometrically it is also an enclosure, an 85 meter long horseshoe that marks a point of arrival, and from which one can view the mountains beyond, which are close yet cannot be seen from the whole campus.
A series of supports illuminate the roof in synchronicity with the sundial, receiving energy from photovoltaic posts, just like the white led lights that outline the border. Furthermore, several beverage kiosks dot the roof's artificial grass and rubber surfaces, creating an elevated meeting space.
The building's roof blends with the contours of the site and extends the campus boulevard. With this gesture it favors circulation and creates a meeting space, dotted with kiosks, that flows onto the plaza.
Cliente Client
Universidad Autónoma de Madrid
Arquitectos Architects
Javier Fresneda, Javier Sanjuán
Colaboradores Collaborators
Miguel García-Redondo Villar (coordinador de proyecto project coordination); Carmen Antón, Laura Casas, Ana Arriero, Jesús Barranco, Álvaro Maestro (arquitectos architects); Alberto Palencia, José Antonio Alonso (arquitectos técnicos quantity surveyors)
Consultores Consultants
IDEEE: Jorge Conde (estructura structure); Grupo JG: Juan Antonio Posadas (instalaciones mechanical engineering); Estrumaher (fachada façade); Bureau Veritas (control de calidad quality control)
Contratista Contractor
Ferrovial–Agroman
Fotos Photos
Roland Halbe, OjoVivo - Paula Arroyo