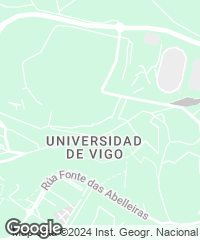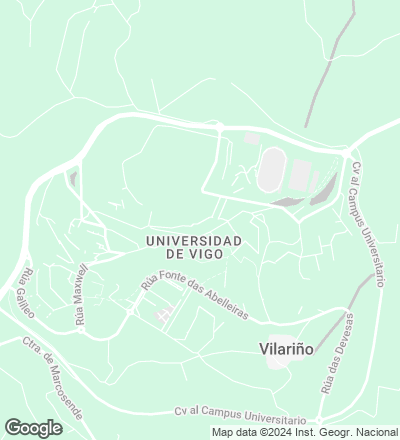 The university of Vigo offers its students the possibility of studying in three Galician cities: Pontevedra, Orense and Vigo. In this last city, the different schools take up a green, undulated terrain close to mount Marcosende, which serves to name the campus, and to the south of the urban center. In an area delimited by the two hillsides between which the valley of the Lagares runs, the natural environment is ideal for concentration, silence and the intensity of work needed by the students. Though in 1999 there were already some isolated constructions, the project commissioned included the redistribution of the site and the construction of new facilities, both academic and auxiliary: a classroom hall with annex services, a theater, shops, a restaurant and a sports center.
Two guidelines define the new distribution for the campus: to rebuild the landscape, placing special emphasis on its natural condition, and to intensify its communal character, proposing an almost urban density. 
Aiming to transform the place into a built landscape, the proposal pays special attention to the organization of open spaces, with artificial hills, paths and itineraries, as well as patches of dense vegetation. The entrance to the complex is located on the eastern end of the campus, in an area which already had some sports facilities. Delimited by a lake, this relatively flat area is transformed into a forest through which the soft curve of the entrance street flows. The itinerary that starts here links the old constructions with the new ones joining also the exterior premises with the covered spaces, by way of two levels: the lower one, that gives rear access to the Library and the School of Economics, softens the difference in level between their respective facades by way of green slopes and paved stands; the upper one, two meters above, is connected by its intermediate point to the most significant space: a paved square amid the hillside and the faraway landscape.

The sports building marks the beginning of an itinerary whose most significant point is the central plaza. Here, the dense landscape sneaks in between the concrete columns that support the classroom-viewpoints. 
Cut out of the terrain are the shops – covered by two structures of wood and cement that are separated from the retaining wall – and the movie theater, a bit farther apart. The five blocks of classrooms are on the side that is more exposed to the square. The rooms are transformed into viewpoints from which to enjoy the landscape: the tilting concrete pillars upon which they rest filter the faraway green and extend it all the way to the plaza. Towards the west, the complex concludes with the two towers housing the rector's offices, which join the two levels of the promenade in one terrace. An almost urban density thereby redefines the new university landscape.
Cliente Client
Gobierno de Galicia, Ciudad Universitaria
Arquitectos Architects
Enric Miralles & Benedetta Tagliabue Directores Project leaders
Dani Rosselló, Elena Rocchi
Colaboradores Collaborators
X. Rodríguez, R. Herrin-Ferri, M. de Rooij, F. Massoni, L. Giovannozzi, K. Chada, A. L. de Moura, J. Hendricks, L. Corbellá, P. Millet, K. Bonifaz, P. Michaud, R. Sforza, C. Höfler, E. Nedelcu, J. Rodríguez, D. Rivoira, N. Laverde, P. Sándor
Aparejadores Quantity surveyors
Manolo Cuquejo, Vigo y Tecnic G3, Barcelona
Consultores Consultants
IOC, Nilo Lletjos; MC2, J. Martínez Calzón (estructura structure); Proiosotec, J. Masachs (instalaciones mechanical engineering); GOC (geotecnia geotechnique);
Contratistas Contractors
Necso, Malvar-OHL, UTE Puentes y Calzadas; Heraklith (techos acústicos acoustic ceilings)
Fotos Photos
Duccio Malagamba