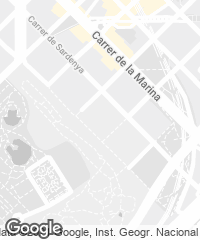 Concieved as an alternative to the outcropping of private institutions, one able to compete with them from the public sector, Pompeu Fabra University was also born with a decidedly urban outlook. From its Rambla, Plaça de la Mercé and Francia Station centers, this educational entity was to be a driving force and support for the recuperation of Barcelona's old quarter, part of an ambitious plan that included the construction of the MACBA, the creation of the CCCB, and the rehabilitation of the Convento de los Ángeles. With the new center flanking the Ciudadela park, the campus now gravitates toward the Jaume I and Roger de Llúria barracks, which have been fixed up to accommodate departments and large classrooms, respectively. Crowning the succession of military buildings, the water tank that once fed the park's irrigation system and waterfall has been turned into the university's main library, its imposing mass of wall challenging the latticework structure situated on the other side of this green zone.
A prefabricated concrete gallery is inserted in among the brick walls of a meter in thickness that once held up the original structure, a cistern built according to Roman typology and created for the Ciudadela Park.
Built in 1874 by Josep Fontseré, the original construction followed the cistern model of Roman times, and its interior was dominated by masonry walls a meter thick, alleviated here and there by arch openings. Once the intermediate divisions carried out in subsequent years were eliminated, the succession of brick diaphragms provided a three-dimensional matrix on which to base the intervention. A new gallery lines the perimeter of the tank at half-height, defining in this fragmented space a series of niches for concentrated study, whereas the central space is a general reading room. The contrast is enhanced by the systems of natural lighting used: lateral in the case of the perimetral gallery, through large preexisting windows, and top lighting for the center, through skylights that appear in the sheet of water that evokes the original use of the building.
The central reading room is illuminated by means of several skylights that arise from the water pool on top of the roof, while the study units of the perimetric gallery receive light laterally through the windows of the facade.
Constructively speaking, the operation could be described as the installation of furniture pieces between the brick masses of the water tank. Two prefabricated concrete pieces – one for the supports and the other for the floor slabs – form the galleries situated three meters up where the services required by the library are placed. The tables, bookshelves and lamps maintain this same play of superpositionings with Fontseré's work. With the exception of the skylights on the roof, all of the elements have been juxtaposed without detriment to the preexisting, and can be removed anytime to bring out the original.
Cliente Client
Universidad Pompeu Fabra
Arquitectos Architects
Lluís Clotet, Ignacio Paricio
Colaborador Collaborators
Jordi Julián Gené (arquitecto architect)
Consultor Consultants
Jesús Jiménez (estructura structure)
Contratista Contractor
Fomento de Construcciones y Contratas
Fotos Photos
Lluís Casals