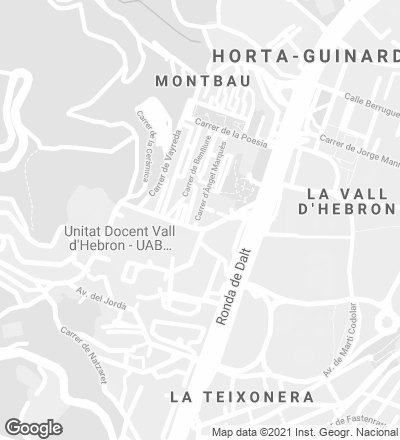 Sitting at the foot of Collserola mountain, the Montbau-Albert Pérez Baró Library was set up by the neighbors in the 1980s as a public library, occupying two of the three buildings of an old school complex built at the end of the 1950s. The passage of time and subsequent interventions had left the building in state of decay. 
With a very tight budget, the project undertakes a comprehensive refurbishment the library, extending its area by adding a third structure that was already on  the site and by building  a new volume.
The project undertakes the complete refurbishment of the library and its new extension through the addition of the third existing warehouse and the construction of a new volume that, taking up the courtyard between warehouses 2 and 3, establishes a connection between the different spaces and thus reaches the area required in the brief. The project chooses to refurbish the structure and recover the original physiognomy of the complex, removing the elements added over the years. By removing the interior divisions it is possible to reinterpret the original spaces, which now appear open and sincere. In the new volume, a metallic structure follows the geometry of parallel porticoes of the original. This new volume opens up to the exterior through two large windows at the ends, which contrast with the opaque nature of the side facades of the existing volumes.
From the functional point of view, the project moves the main access and carries out a total redistribution of the different areas. The library resorts to a spine-shaped scheme with a central corridor that connects the spaces and at the same time structures the layout of the different installations. The project also updates the building in terms of energy, and aside from improving the thermal enclosure, all the installations are renewed following efficiency criteria. The courtyards and fences are also transformed to achieve greater visibility and promote the use of these outdoor spaces for reading and other activities. The construction fences are replaced with new metallic fences, and the small garden on Calle de la Arquitectura becomes a small plaza of access that noticeably improves the relationship of the library with the public space and the neighborhood. 
Inside, the colors and materials evoke the Nordic atmosphere of the school type that inspires the original complex; light steel and glass enclosures create permeable spaces and visually connect the different volumes. 
The project gives the building (reconverted once in the past) a third life, bringing out its strengths. The reorganization of uses achieves an optimum performance, coherent with the spaces available. The rediscovery of the interior spaces generated by an existing structure of clear and bold geometry offers a new experience of space.
Cliente Client
Ajuntament de Barcelona - BIMSA
Arquitectos Architects
Oliveras Boix Arquitectes (Núria Oliveras Boix / Jordi Oliveras Boix)
Consultores Consultants
BOMA-Anabel Lázaro, arquitecta architect (estructura structure); PGI Engineering-Francisco Tijeras, ingeniero técnico technical engineer (instalaciones mechanical engineering); Karen Román, arquitecta técnica quantity surveyor (presupuesto y mediciones budget and measurement); Cómo Design (señalización signage design)
Superficie Floor area
842 m² (534 m² reforma refurbishment, 308 m² ampliación extension)
Presupuesto Budget
872.252 € (sin IVA VAT excluded)
Fotos Photos
José Hevia